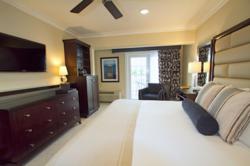 Key West, FL (PRWEB) January 11, 2013
The all new, modern Southernmost Hotel boasts true luxury on Duval Street. Each of the 118 guest rooms of the Southernmost Hotel ranging in size from 220 to 480 square feet have been renovated in the last year. The recently remodeled rooms are affluently decorated in chic blues and browns, reflecting a touch of Caribbean elegance radiating a feeling of relaxation and tranquility.
"We are excited to have our guests, both new and returning , experience the Southernmost Hotel and see it in a new found light," Carrie Babich, Director of Sales and Marketing exclaims. "The rooms, tranquility pool, and grounds are much more elegant and sophisticated now, but still give you that fun, Key West feel."
The tranquility pool, our adult only serenity area, has also been revamped with new, plush lounging furniture perfect for those vacationers looking for a quiet escape. With the re-design of the pool, there is now more space for those looking to entertain at our hotel collection for special celebrations and destination weddings.
"Our goal at the Southernmost Hotel Collection is to provide our guests with the trip of their lifetime and to provide excellent customer service. We believe that one step to doing this is by keeping our rooms and property fresh and well maintained," Matt Babich, General Manager, states. "The renovations we just completed at the Southernmost Hotel demonstrate our commitment to guest satisfaction. Our promise to provide excellent customer service is still the same with the changes that have occurred around the property!"
With the renewed additions and luxuriously remodeled rooms, the Southernmost Hotel in the USA is new again, however, will always offer their guests the services they have become accustomed to by the same recognizable faces. Guests will still be pampered with the amenities Southernmost Hotel has made its standard such as complimentary parking, use of pool towels and beach chairs, and complimentary WIFI with no hidden resort fees as well as on-site activities, 2 pool bars, 3 pools, on-site petite spa, oceanfront restaurant, fitness center, concierge and bellman services.