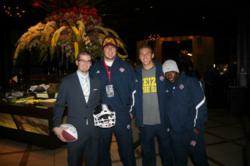 San Antonio, Texas (PRWEB) January 10, 2013
U-19 Team USA football team prepares for the first annual FBU International Bowl at Texas De Brazil. The dinner was Friday night, 32 players with parents and friends were treated to special meal arrange by Texas de Brazil general manager Adriane Schalins. This was the pregame meal for the team and coaches as they prepared to face Team Canada on Saturday night at the Alamodome.
The game was the first FBU International U-19 game ever played, The FBU International Games will feature top athletes selected from FBU North America and FBU International camps held from September 2011 to September 2012. Each athlete will be selected based on their performance at a camp, as well as playing footage, judged by the FBU committee of former NFL players and coaches, with the exception of Canadian athletes. Selection of the Canada teams/athletes is by a Canadian committee and athletes do not have to be FBU alumni to participate. In the aggregate, FBU has reviewed more than 200 Canadian athletes, 750 European athletes, and 1000 U.S. athletes in the pursuit to create these first-ever FBU International All-Star Games. The inaugural games will feature more than 160 U-19 football athletes comprising the rosters to five teams: Europe, Canada/Quebec, Canada/BC, Mexico and United States. Additionally, FBU will select 25 coaches that participated in FBU International and North American coaching clinics to lead the all-star teams.
At dinner the team presented to Texas De Brazil Manager Josh Rogers an autograph Team USA Xenith Helmet and a game ball. Presenting the autographed memorabilia was University of Minnesota commit Alex Mayes 6'6 285lbs offensive lineman from Van Alstyne TX, University of Michigan Baseball commit Ramsey Romano from Valhalla CA and John Noble III RB from Barstow CA who will choose between Cal-Poly St University and UC-Davis. Alex Mayes was quoted " it was an honor to represent his country, his hometown of Van Alstyne and thanked Texas De Brazil for hosting such a great dinner".
Also presenting a game ball to FBU U-19 Team USA Head Coach David White from Las Vegas NV, was offensive lineman 6'3 270lbs Ryan Messer of Arlington TX who attends Ft Worth Nolan Catholic High School and offensive lineman 6-8 300lbs Tristan Nickelson of Clear Falls High School. Tristan Nickelson thank Coach White for his work with Team USA and Ryan Messer stated that Team USA was going to their best effort against Team Canada.