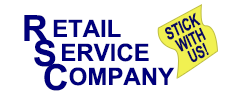 provide a more intuitive, friendly experience for our customers
South Portland, Maine (PRWEB) January 11, 2013
Retail Service Company, a leader in retail store supplies for over 30 years, is proud to announce the debut of a new and improved website.
"The main goal in redesigning the Retail Service Company website was to provide a more intuitive, friendly experience for our customers and we are proud to have achieved that goal."
The new Retail Service Company website was designed from ground up with the customer in mind and it's never been so easy to buy supplies for your retail store, warehouse, or a range of other needs. New features like case buying allow you to choose between individual item or the opportunity to buy by the case and save money.
"Buying by the case lets the customer save money on the products that they need in bulk. It's a great new feature that we are very excited about offering."
Retail Service Company, based in South Portland, Maine, offers a wide selection of retail store supplies and warehouse supplies for all types of retailers. From point of sale (POS) software and hardware to an enormous selection of price guns, labels, and more—Retail Service Company is the one-stop source for store supplies in the United States and Canada.