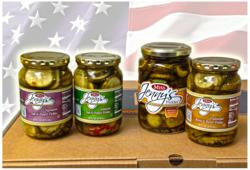 We weren't going to make just ordinary pickles, but pickles the way they were supposed to be
Elma, New York (PRWEB) January 10, 2013
Miss Jenny's Pickles has more in common with the Made In America Store than just a vision of bringing American jobs back to the United States by supporting U.S. manufacturing. The Made In America Store is proud to announce eight different varieties of Miss Jenny's Pickles, all made with American ingredients and components.
100% U.S. manufactured products all in one location. Visit the Made In America Store online to see what Americans are making today!
Miss Jenny and her business partner Ashlee were in the financial industry but when the stock market crashed in 2007, it was time to make some serious changes. Instead of wallowing in the sorrow of the dismal economy, the duo decided to return to their grass roots and make pickles. That's right, pickles.
"We weren't going to make just ordinary pickles, but pickles the way they were supposed to be", said a Miss Jenny's Pickles representative.
Miss Jenny's Pickle recipe was inspired by Jenny's grandmother or "Maw Maw" as they call her. The North Carolina based operation took cucumbers from next door and then dressed in their family's famous recipe. Miss Jenny and Ashlee even went NC State University to attend a so called "Pickle School".
The Made In America Store currently carries Traditional Bread & Butter Pickles, Jalapeno Salt & Pepper, Habanero Bread & Butter and Salt & Pepper.
Like Miss Jenny, Mark Andol opened the Made In America Store as a response to the dismal economy. Andol opened a steel fabrication business in 1989 called General Welding & Fabricating which grew into a 45,000+ square foot facility in 2007. In 2009, after struggling with unfair overseas competition and the business slowdown of The Great Recession, Andol was forced to close two of his plants and lay off one-third of his workforce.
"The hardest thing I had to do was lay off family and friends", said Mark Andol. "Christmas just isn't the same when you have to lay off your brother in law."
Keep up to date with the "Made In America" movement and the vendors involved!
In 2010, Mark Andol decided to open the Made In America Store, where everything on the shelves would be 100% U.S. manufactured, another point that relates to Miss Jenny's Pickles. Every ingredient and components like the cucumbers from next door, is 100% U.S. manufactured.
Miss Jenny's Pickles broke news last month when CBS News' 60 minutes did a special report on the special pickle company. The "Made In America" movement is stronger than ever as the U.S. economy is slowly growing and jobs are starting to come back stateside.
Consumers are starting to realize how focusing just on cost is slowly destroying the U.S. economy and that American made products bring quality and sustenance to the industry.
"I believe in American made quality, not the Chinese throw away world", states Mark Andol, Made In America Store owner and creator. "When I was kid, my father gave me a fishing rod that when it broke, we would fix it. Not throw it away."
The Made In America Store is the only brick and mortar store that sells 100% made in the United States products from over 350 vendors. Consumers can visit http://www.MadeInAmericaStore.com or call 716-652-4872 to get more information or shop our catalog of over 3,500 items. Both Active Duty Military Personnel and U.S. Military Veterans receive a 10% discount every day. Followers of the "Made In America" movement can keep updated with the Made In America Store through Facebook, Twitter, Google+, Pinterest, FourSquare and even their own blog on Wordpress!