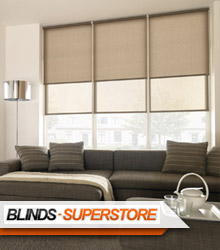 Blinds Superstore have a lot of exciting new products coming to the market in 2013
(PRWEB UK) 14 January 2013
A successful 2012 hasn't stopped Blinds Superstore from going ahead with their sale. Their success last year has proved that they don't need to discount products to receive impressive amounts of custom however as always they want to stay ahead of the game and give their customers a treat for the New Year.
Last year Blinds Superstore were nominated for many prestigious awards as their own duo roller blinds created a splash for their innovative design features, usability and aesthetic appearance. Duo roller blinds combine the benefits of voile, nets, curtains and Venetian window blinds in one product, made in such a way that they add a unique feature to any window whilst still allowing light to penetrate.
From the exterior it is impossible to see through the window when the blinds are drawn, giving the most modern way to give homeowners the privacy they deserve. The Blind Superstore went one step further with this product and it is because of this that they were chosen to compete in the Most Innovative Product of the Year category. They are still the only company to offer wider blinds using a German system which fits a range of windows ensuring the blinds are suitable for every home. Their own blind comes in a range of colours that complement all interior décors which has seen them become the first choice in 2012 for those who prefer a contemporary twist on a classic design. Now with the better than half-price sale homeowners on any budget can afford to test the wood blinds superstore quality for themselves as hundreds of products have a staggering 60% off!
This sale allows customers old and new to benefit from custom made blinds at half price with a further ten per cent discount. The sale encompasses every range from wooden blinds to venetian blinds and everything in between.
Ryan Gladwin of Blinds Superstore divulges a little of their plans for 2013, he says "We wanted to start the New Year with a bang as we have many new products to launch this year. We will be expanding on our custom made blinds that we make in house as well as enabling our customers to create their own designs online. We hope we'll be nominated for more awards and urge our customers to watch this space."
The Blind Superstore offers an extensive range of window dressings for the discerning consumer. Always seeking the most modern contemporary designs they import the best blinds to sell to interior designers and homeowners. The Blind Superstore also produces their own designs in house, cutting out the middle man and passing on savings to their valued customers. They stock everything from Venetian window blinds to wood blinds to the latest fashion of the duo roller blind.
# # #