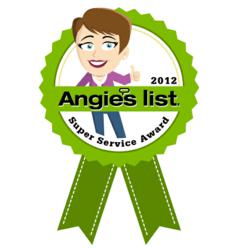 It truly is an honor to be awarded the Angie's List Super Service Award - Tina Howe
San Diego, Calif. (PRWEB) January 10, 2013
Bill Howe Plumbing, Heating & Air, Inc. has earned the service industry-coveted 2012 Angie's List Super Service Award, an honor awarded annually to approximately five percent of all the companies rated on Angie's List, the nation's leading provider of service based reviews.
"It truly is an honor to be awarded the Angie's List Super Service Award," said Tina Howe, Vice President of Bill Howe Plumbing, Inc. "The award reflects our continual efforts in providing the best customer service and highest quality work for our community. As our company has grown and expanded the types of services we offer, we have maintained our commitment to our customers in San Diego. HVAC repair and installation, and restoration divisions were added to our employee roster and were done so without losing the values, quality and customer service that the Bill Howe name has come to represent over the years."
Angie's List members are able to search for, and choose, service providers in their cities with confidence, including in San Diego. HVAC repair, plumbing, restoration and water damage are some of the most sought after service companies on the consumer driven review site. Bill Howe Plumbing, Heating & Air, Inc. has been providing these services in San Diego for over 30 years, premised on building a relationship of trust earning lifelong customers.
Bill Howe Plumbing, Heating & Air, Inc. was awarded this recognition because the company met strict eligibility requirements, including earning a minimum number of reports, an excellent rating from their customers, and abiding by Angie's List operational guidelines. Companies on Angie's List are graded on an A through F scale based on price, quality, responsiveness, punctuality and professionalism. When Angie's List members call Bill Howe for service, they can do so with confidence knowing that the company's services have been approved by other customers like themselves.
"It's a select group of companies rated on Angie's List that can claim the exemplary customer service record of being a Super Service Award winner," said Angie's List Founder Angie Hicks. "Our standards for the Super Service Award are quite high. The fact that the Bill Howe Plumbing, Heating & Air earned this recognition speaks volumes about its dedication providing great service to its customers."
The Bill Howe Family of Companies is accredited by the San Diego Better Business Bureau and is the recipient of multiple awards, including the 2011 National Contractor of the Year Award by the National Plumbing Heating Cooling Contractors Association and the BBB Torch Award Finalist Award for two consecutive years for their commitment to marketplace ethics. The company operates with the mission to provide the highest quality work to the community of San Diego in plumbing services, HVAC and restoration, all at affordable rates. Since its beginning in 1980, Bill Howe Plumbing has been committed to excellence in service and workmanship for local residents. In addition to being recognized for excellent service, Bill Howe Plumbing, Inc. actively participates in volunteer programs to enrich the San Diego community.
For more information about the Bill Howe Family of Companies' list of awards or their commitment to excellence in San Diego HVAC repair, plumbing services, or restoration and flood, visit http://www.billhowe.com, or to speak with Bill or Tina Howe regarding this announcement, contact Bill Howe Marketing Director, Stefanie Hineman at Stefanie (at) billhowe (dot) com.
About Bill Howe Family of Companies
Bill Howe Family of Companies is comprised of Bill Howe Plumbing, Inc.; Bill Howe Heating & Air Conditioning, Inc.; Bill Howe Restoration & Flood Services, Inc. The family-owned and operated company began in 1980 with the plumbing division and has grown into San Diego County's largest low-cost one-stop-shop for service, repairs and installation, offering both residential and commercial services. 9085 Aero Drive, Suite B, San Diego CA 92123. Call 1-800-BILL-HOWE because We Know Howe!
###