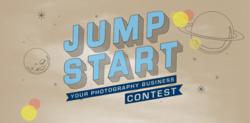 The Grand Prize winner receives $15,000 in prizes including one-on-one consulting with Dream Team Advisory Board of respected photographers.
New York (PRWEB) January 10, 2013
PhotoShelter (http://www.photoshelter.com), the worldwide leader in photography portfolio websites, sales and marketing tools for photographers, launched the "Jumpstart Your Photography Business" contest.
The contest aims to inspire photographers to take their business to the next level to attract more clients, improve existing relationships, and fine-tune photography skills. The contest is open until February 28, 2013 to PhotoShelter members who answer a short questionnaire about plans to grow their photo business in 2013. Interested applicants can enter directly here: photoshelter.com/jumpstart.
The lucky Grand Prize winner will receive over $15,000 in prizes, including exclusive one-on-one time with each member of PhotoShelter's Dream Team Advisory Board:
Lindsay Adler - Social media guru, author, and New York-based fashion and portrait photographer who teaches seminars worldwide.
Zack Arias - Editorial and commercial photographer and experienced speaker and educator.
Ilise Benun - Marketing consultant, author, and Co-Founder of Marketing Mentor.
David Brabyn - Website consultant, photojournalist and Founder of digitaltechparis.
Bill Cramer - Commercial photographer and Founder and CEO of Wonderful Machine.
Jasmine DeFoore - Photo editor and consultant, and Founder of Texas Photo Roundup.
Brian Smith - Award-winning celebrity portrait photographer.
David Hobby - Editorial and commercial photographer and Founder of Strobist.com.
The grand prize winner will also receive a Canon 6D + EF 24-105mm F/4L USM and a $2,000 gift card from Calumet Photographic's exclusive line of products plus a year-long membership to the American Photographic Artists, American Society of Media Photographers, American Society of Picture Professionals or the National Press Photographers Association, and a free year-long PhotoShelter Pro account.
PhotoShelter will award three Gold Winners with a year-long association membership, a free year of a PhotoShelter Pro account, and a $100 Calumet gift card. 10 Silver Winners will also receive a year-long PhotoShelter Pro account, valued at $600.
PhotoShelter's 2013 Jumpstart Contest is open only to eligible PhotoShelter members. Other photographers who wish to enter can become a member by signing up for a free PhotoShelter 30-day trial before February 28, 2013 with the coupon code JUMPSTART. All entries must be submitted by 12:01 AM EST March 1, 2013. For additional information on PhotoShelter's Jumpstart Contest, including prizes and entry rules, visit photoshelter.com/jumpstart.
About PhotoShelter
PhotoShelter offers the most professional, reliable and innovative online tools to build and grow a successful photography business. Over 74,000 photographers use PhotoShelter's websites, social and SEO tools to show their work and attract new clients; online image archives to stay organized and access images on the fly; and image delivery and e-commerce tools to sell their work easily and securely. To start building your business, managing it more efficiently, or finding new ways to market yourself and delight your clients, try PhotoShelter free for 30 days with the coupon code JUMPSTART. Visit us at http://www.photoshelter.com.
About Calumet Photographic
Calumet Photographic has been serving photographers since 1939. Only Calumet serves the needs of photographers with an interactive website, professional call center, worldwide retail and rental centers. There are 32 retail centers in the Calumet group serving the United States, United Kingdom, Netherlands, Belgium and Germany. http://www.calumetphoto.com/.