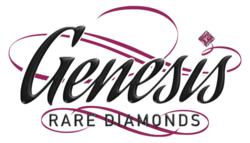 The new space offers a large open space concept, with a showcase area so clients may view their diamonds in a setting that nearly matches the beauty of their remarkable diamonds."
Toronto, Ontario (PRWEB) January 10, 2013
Genesis Rare Diamonds (Ontario) Ltd. ("GRD") is pleased to announce that it is moving to new, larger offices on March 1, 2013 in order to accommodate the Company's rapid growth and development. The new office space is approximately 7,500 square feet, which makes it nearly double GRD's current space and occupies an entire floor of the downtown Toronto Technicolor building. These modern offices will feature an open floor-plan and beautiful new presentation space.
"This move represents an exciting development for Genesis Rare Diamonds," noted Jeff Kushner, President of Genesis. "We have grown our team from 15 to 50 employees since 2008 and are pleased that the new space shall accommodate an even larger team to better support our clients around the world. The new space offers a large open space concept, with a showcase area so clients may view their diamonds in a setting that nearly matches the beauty of their remarkable diamonds."
In addition to beautiful new facilities, Genesis Rare Diamonds has retained Cleansheet Communications, an advertising agency based in Toronto, Canada, to help launch our new awareness campaign. This initiative will begin in early 2013, with an eye to informing new investors of the virtues of this highly lucrative and select alternative to the traditional investment markets.
About Genesis Rare Diamonds (Ontario) Ltd. and Natural Colour Diamonds
Genesis Rare Diamonds specializes in the trading of some of the world's highest quality, investment-grade and conflict-free natural colour diamonds. Rare coloured diamonds are the most concentrated form of wealth on the planet as they make-up less than 1% of the world's diamonds mined annually. In over 30 years of value tracking, the wholesale value of investment grade natural colour diamonds have never decreased, despite world conflict, terrorism and economic upheaval.
These diminutive commodities are part of an ever diminishing worldwide supply with constantly increasing buyer demand, annual value increases have been pushed to increasing levels. On average, over the last 30 years, natural colour diamonds have increased in value by 15% to 30% yearly with no signs of slowing notwithstanding the economic downturn of 2008.
Natural Fancy Coloured Diamonds are not a short term investment. This asset class is intended for the longer term, with a holding strategy that could potentially net returns far greater than the stock market could hope to achieve. Our diamond group is dedicated to ensuring the best possible position for every client. We recommend only the finest natural colour diamonds at the most reasonable and competitive prices.
Genesis Rare Diamonds pledges to never deal in blood or conflict diamonds and never will. All of our diamonds have undergone strict compliance with the Kimberly Process, are certified by recognized gemmological laboratories (such as GIA and EGL) and are unconditionally guaranteed as to cut, clarity, colour and carat weight.
Disclaimer: Genesis Rare Diamonds is not an investment advisor nor is it licensed to provide investment advice. Genesis Rare Diamonds strongly recommends that their clients seek the advice of their financial advisors, gemologists and/or attorneys if they are seeking to invest in quality diamonds as part of an investment portfolio or strategy. Natural colour diamonds have been subject to upward price movements historically. Genesis cannot guarantee that upward price movements of natural colour diamonds which have occurred historically will continue in the future.