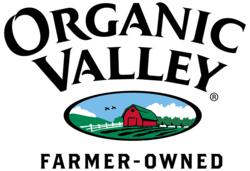 'The widespread drought creating feed shortages was tough, yet our farmer-owned cooperative model proved resilient,' said George Siemon, C-E-I-E-I-O and founding farmer of Organic Valley
La Farge, Wisconsin (PRWEB) January 09, 2013
Organic Valley, the nation's largest cooperative of organic farmers and a leading organic brand, today announced their 2012 year-end results, exceeding expectations in spite of a year of challenges that included the worst drought in 25 years. In 2012, the farmer-owned cooperative brought on 211 new farmers for 11 percent member growth across the country, increased sales from $715 million in 2011 to $860 million for 20 percent growth, and donated more than $2.2 million to nonprofit organizations dedicated to advancing organic food and farming, and building community.
"The widespread drought creating feed shortages was tough, yet our farmer-owned cooperative model proved resilient," said George Siemon, C-E-I-E-I-O and founding farmer of Organic Valley. "Our farm families and community came together to face the feed shortage while continuing to focus on providing the very best food nature can produce."
Consumer demand for organic continued in 2012. While Organic Valley grew 20 percent, projections indicate the organic industry overall grew nearly 10% for the second straight year. Organic sales reached $30 billion in 2011. More than an estimated 70% of organic consumers are moms who seek nutritious, delicious, food for their families that is produced without antibiotics, poisonous pesticides, synthetic hormones, or GMOs.
"We are humbled by the amazing growth of organic," adds Siemon. "Families continue to embrace organic as the best food and also as a lifestyle choice. Because of this, organic continues to be a lifeline to family farmers so they can keep farming for generations to come."
In certain regions, Organic Valley saw more growth than ever. In 2012, Organic Valley brought on new farmers in regions such as California, where we went from 17 farmer-owners to 50 by year-end.
Organic Valley was proud to be a leader in alternative energy initiatives in 2012. The Cashton Greens Wind Farm is Wisconsin's first community wind project. The electricity that the two windmills generate is equivalent to 89 percent of the electricity consumed within cooperative-owned facilities. Add to this a state-of-the-art solar electric system on its headquarters' roof, these 2012 initiatives have contributed significantly to the co-op's efficiency and energy independence, while creating yet more jobs for rural communities in Southwest Wisconsin where the cooperative is headquartered.
The cooperative's dedication and hard work was rewarded in 2012. Siemon was recognized by the National Resource Defense Council with a Growing Green Award in the business category and inducted into the Social Venture Network Hall of Fame in the Environmental Evangelist category. Organic Valley products also enjoyed recognition in 2012, winning first place in the World Dairy Expo Championship and Gold in the Los Angeles International Dairy Competition for European-Style Butter, and similar accolades for other products, including Pasture Butter, Cream Cheese, and Heavy Whipping Cream.
New products were also launched in 2012, including the first-ever unprocessed, organic American cheese singles. Organic Valley American Singles™ are 100% real cheese, providing families with a healthier alternative to "processed cheese food" and a delicious, smooth-melting cheese perfect for sandwiches and snacks.
Looking ahead to 2013, Organic Valley will celebrate the 25th anniversary of the founding of the cooperative in March, with a renewed commitment to organic education and keeping farmers on the land.
"We inherently believe that our mission-driven, values-based cooperative model has served us well in the past 25 years and will continue to serve us in the next 25," concluded Siemon.
Organic Valley: Independent and Farmer-Owned
Organic Valley is America's largest cooperative of organic farmers and one of the nation's leading organic brands. Organized in 1988, it represents 1,814 farmers in 35 states and three Canadian provinces, and achieved $715 million in 2011 sales. Focused on its founding mission of saving family farms through organic farming, Organic Valley produces a variety of organic foods, including organic milk, soy, cheese, butter, spreads, creams, eggs, produce and juice, which are sold in supermarkets, natural foods stores and food cooperatives nationwide. With its regional model, milk is produced, bottled and distributed right in the region where it is farmed to ensure fewer miles from farm to table and to support our local economies. For further information, and to learn about Organic Valley's 25 years of sustainable agriculture as it celebrates its anniversary in 2013, visit http://www.organicvalley.coop. Organic Valley is also on Twitter @OrganicValley and Facebook http://www.facebook.com/OrganicValley.