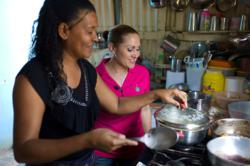 "I am incredibly proud and excited to launch my new line of cookware to inspire cooks around the world to create meals that speak to the heart and soul of those around the table," said Deidre Pujols, CEO of Pujols Kitchen.
St. Louis, MO (PRWEB) January 09, 2013
Deidre Pujols, the wife of Albert Pujols, the superstar first baseman for the Los Angeles Angels of Anaheim, announces the launch of Pujols Kitchen Cookware. This new line of cookware has been specially designed by Deidre to reflect and enhance the original cookware used in the Dominican Republic and Latin American homes, featuring a contemporary, innovative look and feel. Profits from the cookware sales are donated to families in poverty around the globe, providing them with cookware, non-perishable food, and assistance to help make positive changes in their lives.
"I am incredibly proud and excited to launch my new line of cookware to inspire cooks around the world to create meals that speak to the heart and soul of those around the table," said Deidre Pujols, CEO of Pujols Kitchen. "Cooking, for me, is an expression of love and of serving others. From the time I came up with the idea, the mission of Pujols Kitchen has been to bless the less fortunate, and now we are one step closer."
Pujols Kitchen Cookware delivers the perfect balance of gourmet performance and practicality for maximum culinary creativity. Each piece has been ergonomically engineered to be more comfortable to use with beautiful designs reflecting ancient Dominican Indian art, symbolic to the people of the Dominican Republic. The cookware is made of three-ply stainless steel with added features for safety and convenience, including silicone on the cookware lids and utensils, a non-stick surface, as well as glass lid handles for resisting heat. Each piece is oven and dishwasher-safe, and made to be used in any situation to produce great food.
The Pujols Kitchen Cookware line is launching with 16 items to choose from including a 10-piece full set; large, medium and small caldero pots with lids: large (with lid) and medium sauté pans; a glass baking dish; and assorted spatulas, spoons, ladles, aprons, and lunch bags. The affordably priced professional cookware ranges in price from $6.99 to $279.99 for the 10-piece set.
"I asked women in the Dominican Republic to put my new cookware to the test!" added Deidre. "It is important to me that the friends who inspired me are equally inspired by the cookware I've created. In fact, they were very excited about the new features, the feel, and how great the pots cooked, which could not make me happier."
The idea for Pujols Kitchen started in 2008 when Deidre sought a way to combine her interest in cooking with her passion to help those in need. Deidre's love for cooking began with her earliest memories of watching her great-grandmothers in the kitchen. Later Deidre spent time in the kitchen with the women in Albert's family in the Dominican Republic, learning how to cook with their "magical new ingredients like plantains and yucca roots" and their unfamiliar cookware that created incredible meals. With this cookware, families can share good times, great food, and togetherness around the table.
"I want to give back to the women who have given me so much affection and inspiration through our shared love of cooking," said Deidre. "Their generosity, not only with me, but in giving what they can in the way of meals or simply their time to others who may be equally less fortunate, is an extraordinary example for all of us."
Through Pujols Kitchen and her work with the Pujols Family Foundation, Deidre seeks to bring about an improvement in the quality of life for the women of the Dominican and others like them around the globe. Deidre hopes to inspire cooks to create memorable meals that can be shared and enjoyed by all.
The Pujols Kitchen Cookware line is available exclusively for now through the website at http://www.pujolskitchen.com or by calling 877-315-1555.
About Pujols Kitchen
Founded by Deidre Pujols in 2008, Pujols Kitchen strives to "prepare with love, serve with a purpose" where family, friends and flavors come together around great meals and along the way help those less fortunate create nutritious traditions of their own. Its mission is to encourage and support less-fortunate families with meals, tools, and guidance that nourish the body, mind, and spirit while improving quality of life in impactful and meaningful ways. To learn more about Pujols Kitchen go to http://www.pujolskitchen.com.