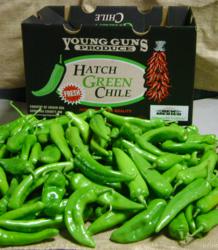 The demand for Hatch green chile is growing fast...
(PRWEB) January 10, 2013
Chris Franzoy, President of Young Guns Produce, Inc. in Hatch, NM, announced plans to plant at least 20% more green chile than he did in 2012.
"The demand for Hatch green chile is growing fast," said Franzoy, whose family has been growing green chile in the Hatch region since 1930.
According to a recent report in the Albuquerque Business Journal the popularity of New Mexico Green Chile has spread throughout the United States.
Young Guns Hatch Green Chile is found in every state in the nation, says Franzoy, who has been working hard to put his chile in front of new customers.
"During our harvest we travel around the U.S. and put on live roasting and cooking Demonstrations."
Last year had him demonstrating roasted green chile from Las Vegas, Nevada, all the way into Canada.
He says the travel is worth it, because "once people have tried our Hatch Chile they are hooked."
About Young Guns Produce, Inc.
Young Guns Produce, Inc. is located in Hatch, New Mexico (also known as, "The Chile Capital of The World"). The corporation was established in February of 1992. The principal owners are Chris and Tammy Franzoy.
Young Guns Produce began its focus on marketing produce grown in Hatch, New Mexico with the idea of supporting the community and delivering great food to the consumer. Chris has always headed up the sales department, and has been at the desk for over 25 years.
The company has evolved into one of the largest suppliers of onions and fresh Hatch Green Chile, pumpkins, and New Mexico Pinto Beans in the Hatch Valley. The newest addition to our Hatch produce is our Frozen Hatch Green Chile.
For more information go online to http://www.younggunsproduce.com, or call 575-267-3001.
# # #