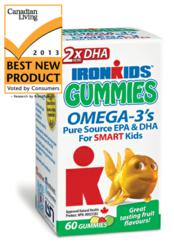 We are proud to be recognized among our industry peers as a market leader in the vitamin category.
Burlington, Ontario (PRWEB) January 10, 2013
Life Science Nutritionals is proud to be the winner of the Best New Product Award for their reformulated IronKids Omega 3 2x DHA. The new formula has twice the DHA as the original with the same great taste that has made IronKids Omega 3 the #1 selling Omega 3 for kids.
This is the second time IronKids Omega 3 has won the Best New Product award and the fourth award for the Omega 3 product line. The original IronKids Omega 3 formula won the Best New Product award back in 2010. This year over 90,000 real consumers cast their vote for their favourite food, health and beauty, and household products in their annual independent survey.
"The reformulation reflects our mandate to continually research ways to improve our products so that we are bringing our customers the best possible products," says Life Science Nutritionals Founder and CEO Stuart Lowther. "We are proud to be recognized among our industry peers as a market leader in the vitamin category."
IronKids Omega 3 2x DHA now contains 360 mg fish oil, 100 mg Omega 3 fatty acids, 80 mg DHA and 20 mg EPA. Specially formulated with pure source DHA and EPA from triple distilled fish oil, IronKids Omega 3 2x DHA contain all-natural colours and flavours so parents know they are giving their kids the highest quality supplement available.
Omega 3 is called an "essential" fatty acid because we need them to stay healthy, but our bodies can't produce them so the only way to get Omega 3 is from diet or supplements. Omega 3 is especially important for kids because they are needed for the optimum development of their brain and nervous system, and for maintaining cardiovascular health.
"We worked closely with our fish oil supplier to develop a higher concentration blend that would allow us to deliver greater health benefits with the same great taste our customers have come to expect," explains Lowther who knows taste is the key to getting kids to take fish oil supplements.
The great taste, with no 'fishy' aftertaste common with other fish oil supplements, is the reason IronKids continues to be the #1 selling Omega 3 supplement for kids. The colourful fish-shaped gummies come in three great flavours: orange/peach, strawberry/banana and green apple. Considering none of the foods on the list of Omega 3 sources are favourites among kids, it's no surprise that parents are just as keen about the fruity flavours.
"The reason for its success is that we have been able to deliver a very high quality, great tasting Omega 3 product that is easy for kids to take," says Lowther. Because Life Science Nutritionals manufactures their own products, they can guarantee quality. "Our quality products and the fact that kids actually like to take them makes it easier on parents who have the peace of mind that their kids are getting the nutrition they need."
Look for the new 2x DHA label on IronKids Gummies on store shelves now!