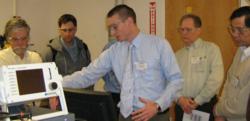 The instructor fielded all questions with great technical explanations. I was very happy with the course.
Columbus, OH (PRWEB) January 18, 2013
EWI announces its winter schedule of training courses – two of which are brand new – to be offered in February and March 2013. All five classes will be held at EWI in Columbus, Ohio, and are open to the public.
The schedule includes introductions to a wide array of advanced manufacturing technologies:

Introduction to High-Power Ultrasonic Processes [NEW] – February 7, 2013
Introduction to Friction Stir Welding – February 21, 2013
Introduction to Materials, Design and Testing [NEW] – February 25-26, 2013
Fundamentals of Welding Engineering – March 4-8, 2013
Introduction to Laser Welding and Equipment Fundamentals – March 14, 2013
To register for an EWI training course or get more information contact Leah Kohr at 614.688.5049 or lkohr (at) ewi (dot) org, or visit the EWI website at ewi.org/events.
About EWI
EWI is an international thought-leader on materials joining and allied technologies. It uses manufacturing technology innovation to increase the competitiveness of global leaders in the advanced energy, aerospace, automotive, government/defense, heavy manufacturing, oil and gas, and consumer products industries at more than 1,200 member locations. EWI also operates a variety of technology-based centers and consortia to further increase U.S. manufacturing innovation. To learn more, visit http://www.ewi.org, email info(at)ewi(dot)org, follow @EWI_innovation, or call 614.688.5000.
# # #