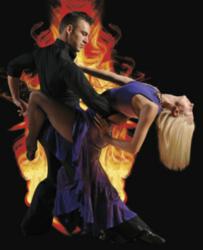 Mixing music with
visual elements and the beauty of dance is going to be a thrill for our audience. Clement and Tatania bring style, panache and passion to their work and I look forward to this concert! Jacamo Bairos
Charlotte, NC (PRWEB) January 17, 2013
The Metropolitan Ballroom dance team will add a visual twist to the Charlotte Symphony as they perform at 7:30 p.m. on Friday, January 25 at the Knight Theater (in downtown Charlotte). The musical presentation features high-energy ballroom dancing, while the orchestra plays. Highlights will include Piazzolla's Libertango, Lecuona's Malaguena, Johann Struass' Voices of Spring Waltz, and Bach's Toccata and Fugue uniquely arranged in a Latin style. It is a one-of-a-kind experience with live symphonic music and spectacular dancing all on one stage.
The Metropolitan Ballroom dancers will waltz, rumba, samba, and tango to music by the Charlotte Symphony with conductor Jacomo Rafael Bairos. Choreographed by Tatiana Kazakova, co-owner and premier instructor at Metropolitan Ballroom. Tatiana is recognized as a top dancer and coach in the US and holds several dance competition titles including Ukrainian National Junior and Youth Latin Champion.
The idea for "Ballroom" began two years ago when dancers from the Metropolitan Ballroom
were briefly featured during the Mambo from West Side Story. It was such a success and a pleasure that the Charlotte Symphony wanted to work with Metropolitan Ballroom again, this time featuring the dancers in the full program.
Clément Joly, co-owner, director, and also premier instructor at Metropolitan Ballroom said,
"It is a dancer's dream to dance to live music—to create movement over the pure sound of the orchestra is amazing."
Conductor Jacomo Bairos is equally excited for the collaboration, saying "Mixing music with
visual elements and the beauty of dance is going to be a thrill for our audience. Clement Joly and Tatania bring style, panache and passion to their work and I look forward to this concert!"
Metropolitan Ballroom, Charlotte's premier ballroom dance studio, located in Charlotte, North Carolina offers American and Latin style ballroom dance lessons. The ballroom boasts an elegant but relaxed social atmosphere.
Metropolitan Ballroom is recognized not only for what they bring to the Charlotte dance community but also for their charitable and community involvement. They recently participated with the YMCA's "Dancing with the Stars", fundraiser event, which raised $60,000 through charitable contributions. Metropolitan Ballroom also hosted 'Palladium Night, Salsa Dancing for a Cause,' another excellent charity event.
The concert audience is invited to take an active role in this innovative show: concert-goers are
encouraged to participate in Fancy Shoe Night by donning their fanciest, wackiest, dressiest
shoes, and are invited to stay after for an impromptu, post-concert dance party! Additionally,
pre-concert mingling and light hors d'oeuvre from Dean and Deluca begin at 6:30 p.m. in the
Knight Lobby. There will also be a dance lesson special provided to all concert-goers post event.
Tickets
KnightSounds tickets are $39 and include a drink, light hors d'oeuvres, and post-concert
audience activity. Both are available through the Charlotte Symphony ticket office at 704-972-2000 or online at http://www.charlottesymphony.org.
Some special pricing is available through collaboration with Metropolitan (just mention Metropolitan Ballroom) and the Charlotte Symphony through Tuesday, January 22, 2013.