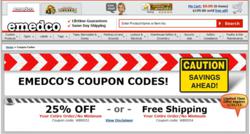 "This is our way of saying thank you..."
BUFFALO, NY. (PRWEB) January 10, 2013
After more than 60 years in business, Emedco, a leading manufacturer and distributor of safety products, has launched its first ever onsite coupon code page.
The coupon code page will feature seasonal promotions and limited time offers, so customers are encouraged to check in regularly to ensure they get an amazing deal.
"We recognize times are tough and budgets are tight, so we wanted to work with our customers to give them the best deal possible," Emedco's eCommerce Brand Manager, Sharon La Riviere, said about the decision to launch the page.
These promotional codes are highly sought after by customers, so it's guaranteed that you're getting a great offer.
With so many competitors in the market, Emedco says they wanted to offer these discount codes as a way to show their customers how much they are appreciated.
"This is our way of saying thank you to our best customers and we want to work with you during these difficult times," La Riviere said.
The company's new coupon page is also a way to show customers that Emedco is evolving and changing with the marketplace, as well as responding to what their customers need to continue to provide a safe workplace for all employees.
This isn't the only custom-driven change Emedco has taken on in the past few months. Back in October, Emedco launched a mining website in an effort to provide surface and underground mining companies a one-stop shop to purchase safety and compliance products.
"We've been in business for over 60 years, providing top quality solutions to promote worker safety, communicating regulation information, and delivering high quality customer service," La Riviere said. "These changes are our way of proving our dedication to serving our customers better."
###
About Emedco
Emedco offers more than 225,000 products, including traffic & parking signs, hundreds of custom products, safety tags, as well as exit, fire & emergency products, which are designed to provide safe and secure solutions for all businesses. For more information, visit http://www.emedco.com.