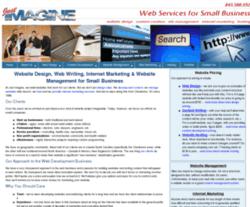 Just Imagine is a very knowledgeable web design firm. We have utilized their services on many projects. They have developed various different types of sites for us as well as written excellent content based on information we provided.
Charleston, SC (PRWEB) January 23, 2013
Just Imagine was awarded the "Best of the Best" designation for excellence by Follow Media Consulting, Inc. in the category of Web Design Charleston SC. This award signifies the continued commitment and dedication of the areas best in web design services for all businesses.
Web designers and firms can be seen all over the country. But what makes Just Imagine in Charleston, SC so special? Three things: web experience, professional experience and life experience.
Just Imagine is a one-stop-shop of web services for the small business owner. This means both their pricing and their communication style is geared to the little guy. Whether a business needs a new website, a redesign, or they just need a webmaster for hire who can just make some quick changes and give a sense of direction, Just Imagine is that firm. Their objective is to provide timely, reliable, high quality service at affordable rates.
What does life experience have to do with it, you ask? Just Imagine has been around the block, literally and figuratively, quite a few times. They speak English (and a little Spanish) to their clients, not techno-speak. They have lived and worked in many places doing many different kinds of jobs. In short, they can see the world from a business owners perspective and explain clearly and concisely how they can make it better (at least when it comes to a website).
The principals of Just Imagine have been building, managing, marketing and writing websites since 1997. They have developed ground-up database-driven sites for big companies. They also have written web content for start-ups. They have marketed industrial sites and managed real estate sites. If fact, a client would be hard pressed to find a type of project that Just Imagine haven't had a hand in over the years.
If you have any more questions regarding their web services, call Just Imagine at 843.388.1192 or visit their website at http://www.justimagine.net.
About Follow Media Consulting, Inc.
Named one of the best SEO companies by Jonas Marketing, Follow Media Consulting, Inc. is a rapidly growing worldwide firm of SEO, Social Media, and Mobile Marketing Professionals. Follow Media Consulting, Inc. headquarters is located in Richmond, VA. However, our professional team is networked across the world, with regional offices across the United States, in the United Kingdom, Canada, Australia, France, South Africa, the Philippines, and India.