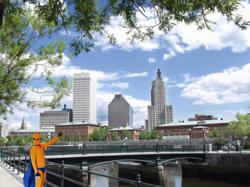 "People are getting their homes ready for the new year and possibly lots of snow"
(PRWEB) January 10, 2013
Seva Call (Save A Call), a venture-backed startup, is a free web service that finds and connects consumers to local service professionals within minutes. Seva Call finds the "right" professional by looking at a variety of important factors including online ratings and reviews, social reputation and interaction, call analytics, and other forms of consumer and business feedback.
"We've experienced how difficult and time consuming it is to find a service professional, which is why Seva Call is excited to make it easier for the people of Providence to get the help they need," says Seva Call CEO Gurpreet Singh. "It's fast, it's easy, and it's about time for consumers to just sit back and relax."
Seva Call is ready to connect the residents of Providence to over 2,000 service professionals including painters, auto repair professionals, electricians, and even lawyers. To relieve the stress of researching and calling multiple companies, Seva Call encourages consumers to visit the free tool at http://www.sevacall.com, enter their location, availability, and problem at hand. Our service allows you to take it easy and wait for service professionals to call you. Seva Call's algorithm matches the consumer with three service professionals who can best help based on proximity, availability, and task at hand.
Consumers are not the only ones that will benefit from using our service, businesses will benefit from using Seva Call as well. When Seva Call receives a request from a consumer that will match to a particular business, the request will be relayed to those businesses as an email, phone call, or text message. Once the business receives that request, they will have the opportunity to accept or reject the client based on factors such as location, availability, and job details.
Providence's local directory has hundreds of listings for each service industry. There are a lot of inefficiencies when trying to find the right professional, so Seva Call's goal is to eliminate those inefficiencies and make finding a service professional quick and easy. In an average of 100 seconds, Seva Call will match users with high quality professionals who will be able to help with what the consumer needs.
"People are getting their homes ready for the new year and possibly lots of snow," says Seva Call president Manpreet Singh. "Whether they need a maid service, plumber or snow removal professional, Seva Call will make sure homeowners get the best help."
In September 2011, Seva Call raised $1.3 million in Series-A funding from angel investors and venture capitalists. Seva Call has already launched in Washington DC, Baltimore, Richmond, Philadelphia, Pittsburgh, Boston, Hartford, and other surrounding cities. Seva Call is on its way to launch nationwide, and preparing to release a free iPhone and Android app in the near future.