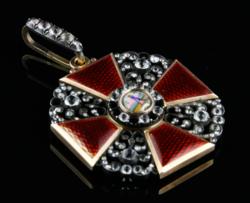 "A highlight of the auction was a Russian gold, diamond, and enamel St. Anne's medal discovered at one of our West Coast appraisal days." -Harry Morgan, Senior Appraiser.
Beverly, Massachusetts (PRWEB) January 11, 2013
Kaminski Auctions' Annual New Year's Auction and DéCoR Auction premiere were a stunning success. Over 2,300 registered online bidders from over 30 countries added their bids to the 200 placed by phone for the two-day auction. A large in-person audience filled the Kaminski gallery for the sale of a variety of impressive pieces, from jewelry, to fine art and furniture.
A Russian St. Anne medal garnered particular interest on Day One. The head of the Imperial House of Russia bequeathed these medals of the Order of St. Anne to those who preformed outstanding civil or military service. Receiving this imperial gift constituted one of the highest honors, and conferred upon the recipient a title of nobility. Certainly sought after during the reign of the Czars, the fine medals continue to draw many admirers today. Within the past decade, two of these medals have appeared for auction in Europe. In 2005, Christie's sold a St. Anne medal of the first class for $39,000.00 in London, and in 2008 the Galerie Numismatique in France sold a medal of the third class for a record $475,000.00. The sale of the St. Anne medal at Kaminski appears to set a new record for sales in the United States, replacing the previous record of $25,000.00 set in 2010 at Jackson's Auction in Iowa. The beautiful piece, which features a painted enamel image of St. Anne at the center of a red guilloche cross, was the highest selling lot of the auction. With keen interest from five phone bidders and a large number of online bidders, the medal ultimately sold for $70,800.00 with buyer's premium.
A number of other small and beautifully designed pieces also appeared for auction on the first day. One exceptionally notable piece was an elegant Cartier watch, made from 18K yellow gold and featuring a bold square face encircled by diamonds. The watch sold for $6,600.00. Also offered in jewelry was a platinum ring set with a 3.00 CT round diamond and flanked with 12 smaller round brilliant cut diamonds, which sold for $14,400.
The first day of sale also presented an intricately carved jade pendant. The exquisite carving of the pendant articulates two fine layers of detailed patterning depicting a playing dragon among clouds with a bat and flower pattern. Originally estimated to bring between $300.00 and $400.00, the piece finally sold for $16,800.000.
The New Year's Auction additionally presented a number of fine sterling silver and flatware lots as well, including three lots of Gorham Sterling, which sold over both days of auction. A complete set of Gorham sterling flatware in the King Edward pattern was among the highest selling lots, reaching $4,800.00.
Day Two inaugurated the first ever DéCoR Auction at Kaminski Auctions. In keeping with the theme of the DéCoR blog, items offered on the second day exemplified the beauty and interest that antique furniture and decorative objects can bring to the modern home. A beautiful Sino Tabriz oriental rug was one highlight of the auction, and sold for $16,380.00. Day two also offered a range of striking furnishings and artworks. The lots offered including a nineteenth century Chinese export Famille Rose garden seat for $5,400.00, as well as a painting attributed to the French expressionist painter Bernard Buffet, which sold for $6,000.00.
A Lucius B. Bradley mantle clock commanded considerable interest. Presented in a mahogany case by the case maker Charles Platt, the clock carries the date 1810 in pencil and also retains the clock and case keys. Originally estimated to sell for between $400.00 and $500.00, the price of the clock was eventually hammered down at $5,850.00. The auction also included smaller decorative items for the home, such as a clever sterling cocktail shaker. This uniquely designed shaker originally sold through Udall and Ballou, a premiere jewelry designer of the early twentieth century. The shaker takes the shape of a golf bag with clubs and sold above the original $4,000.00 estimate for $10,530. All prices include buyer's premium
To read more about distinctive items such as these, antiques in the modern home, and the DéCoR Auctions, visit the DéCoR blog at Kaminskiauctions.com.
After completing the New Year's Auction and premiere DéCor Auction with such success, Kaminski Auctions looks forward to its upcoming 20th century Decorative Arts and Design auction on January 13, 2013, as well as an exciting Asian Art and Antiques Auction on January 20, 2013.
Kaminski Auctions located on the North Shore of Boston has been serving the New England antiques market for over 25 years, as a full service auction house and appraisal service for fine art, antiques and estates.
With two locations in Beverly, Massachusetts, including a new state of the art auction gallery located at 117 Elliott Street, and a historic 1850's barn and office facility at 564 Cabot Street Kaminski Auctions hosts 16 auctions a year.
In today's highly competitive market of fine art and antiques, Kaminski Auctions provides its customers with bicoastal services and marketing with west coast offices in Beverly Hills and San Diego, California.
Specialty departments in Asian Art, Fine Art, Glass, and Lamps and Couture, and Vintage Clothing provide our customers with highly trained and knowledgeable appraisers on staff that will help you determine the true value of your antiques or entire collections. Free Appraisal days are offered every Tuesday from 10:00am-4:00 at our Cabot Street location in Beverly, MA.
Dealers and collectors consider Kaminski Auctions an important source of period antiques, oriental rugs, jewelry, silver, porcelain, and fine art. The firm's extensive clientele includes institutions, business, local historical societies, and private individuals.