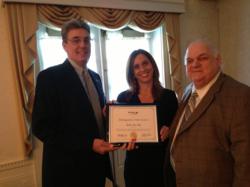 "Working with SCORE and my SCORE mentor Amy have provided a foundation to help my business grow," said Mook.
Philadelphia, PA (PRWEB) January 11, 2013
Successful mompreneur Colleen Mook had some exciting news come her way when her company, Baby Be Hip, was recently selected by business resource SCORE as a winner of the Sam's Club & SCORE collaboration for small businesses, the Sam's Club Giving Program.
Parents think long and hard about a baby's name, and Mook knows from experience with four kids that parents take pride in the name they finally choose. As the founder and CEO of Baby Be Hip, a small business specializing in personalized baby gifts located in Philadelphia, Mook creates products that showcase a new baby's name for parents to proudly display, including award-winning personalized burp cloths for babies to "spit up in style".
Baby Be Hip was selected as one of the two small businesses in Pennsylvania awarded into the prestigious program that accepts a total of 102 businesses, all of which were selected by SCORE. Mook has continuously sought business advice and mentoring through SCORE, a non-profit focused on assisting small businesses grow and reach their goals.
The imperative tool for small business connected Mook with her business mentor, Amy Larrimore of The Empire Builders Group, who nominated Mook and Baby Be Hip for the collaboration program. "Working with SCORE and Amy have provided a foundation to help my business grow," said Mook. "The access to tools for my business from Sam's Club and the additional training will really help me take my business to the next level."
Through the Sam's Club Giving Program, Mook will attend a "High Speed Growth Seminar", a training program featuring executives, workshops, and tips to boost brands, as well as a grant to Baby Be Hip from Sam's Club.