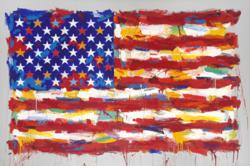 (PRWEB) January 11, 2013
On January 19th P&C Art on 3108 M Street in Georgetown will host the opening of "Inauguration 2013", a pop art celebration of President Barack Obama's Second Inauguration by "America's Artist" John Stango.
The show will feature John's classic patriotic works including an array of his signature flags. It will also highlight key pieces from his new portrait series including Barack Obama, Michelle Obama, Abraham Lincoln, John F. Kennedy, and Jackie Onassis. A number of works will be offered for the first time as commemorative limited edition lithographs.
Stango stands at the leading edge of modern American pop art. With a world-wide cult following drawn to his distinctive "American Muscle Car" style, Stango has carried the pop art movement into the 21st Century. His work is powerful. A descendent of famed American Artist Norman Rockwell, Stango builds upon a 1950's tradition, infusing it with a new vibrant, colorful, testosterone-fueled approach. Musicians, art collectors, politicians, actors, and professional athletes alike prize his work, which can be found in stadiums, corporate offices and galleries across the country.
Praised by connoisseurs and philistines alike, Stango's art has widespread appeal. His paintings draw a diverse crowd to galleries spanning from New York to California, and Sweden to Japan. Beloved by such modern icons as Nicole Miller, Allen Iverson, Bruce Willis, Governor Ed Rendell, Swizz Beatz, and Sylvester Stallone, Stango's reinterpretations of classical icons resonate strongly in 21st Century America. In addition to promoting his art, Stango also remains deeply committed to philanthropy, using his paintings and proceeds to benefit charities around the world.
The show will run from January 18th through January 25th . Reception and meeting with the artist Saturday, January 19th 3-7pm, Sunday, the 20th and Monday, the 21st noon-4pm.
For more information, or to schedule an interview with John Stango, please contact Mimi Elberfeld at (215) 519-2666 or at [email protected]