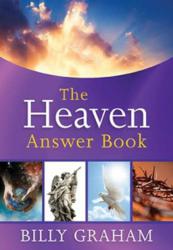 God has a plan for us right now, and life's greatest joy comes from knowing Him and living for Him every day.
(PRWEB) January 09, 2013
Throughout the month of January, Trinity Broadcasting Network, America's most-watched and requested faith channel, honors beloved evangelist Dr. Billy Graham as it offers friends and partners Dr. Graham's best-selling new work, "The Heaven Answer Book."
"Over the past nearly forty years Billy Graham has been a dear friend and supporter of our work here at TBN," said President Dr. Paul Crouch, TBN's founder and President. "We have broadcast many of his television specials and were privileged to participate in his great Reno, Nevada and Anaheim, California crusades. Dr. Graham has been a faith partner with us in the work of the Gospel."
Billy Graham has been called one of the greatest soul-winners of the last one hundred years. He has preached on nearly every continent, and over the past 60-plus years his crusades, broadcast live from stadiums and arenas all over the world, have drawn millions to faith in Jesus Christ. In addition, Dr. Graham has penned a score of best-selling books that have comforted, inspired, and challenged people in their faith, including "Angels," "Peace With God," "Hope for the Troubled Heart," and "How to Be Born Again."
In his latest work, "The Heaven Answer Book," Dr. Graham tackles many of the issues and questions individuals have wrestled with about heaven and the afterlife down through the ages. What happens when we die? Can we really be sure we will go to heaven? What will we be doing in heaven? What will our new glorified body be like? Dr. Graham offers profound and thought-provoking answers to over 100 questions surrounding the place that Scripture calls the "City where the Lamb is the light."
Dr. Graham explained that his purpose in writing this volume is to offer people hope for the future and meaning for their lives in the here and now. "I am convinced that we will never be prepared to live until we are prepared to die," he writes in The Heaven Answer Book. "God has a plan for us right now, and life's greatest joy comes from knowing Him and living for Him every day."
Said Dr. Crouch: "We are privileged to be able to offer this life-changing book from one of our dear friends and one of the world's greatest Gospel messengers. Our prayer is that it will bring hope and comfort to many people."
Click Here for information on receiving your copy of Dr. Billy Graham's "The Heaven Answer Book."