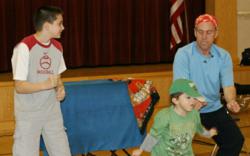 "Our students and teachers loved Jedlie's show. It was fun and delivered an important, meaningful message. It was just what our students needed to hear."
Mr David Conroy, Principal
All Saints School, Manassas, VA
(PRWEB) January 11, 2013
Catholic Schools in New York and New Jersey will be celebrating Catholic Schools Week 2013 by hosting performances of the interactive school assembly "We Will ROAR - Respect Others, Accept Responsibility!!!" http://www.wewillroar.com
Catholic Schools Week is an annual observance that begins the last Sunday in January and runs all week, which in 2013 is January 27 to February 2. Schools typically celebrate Catholic Schools Week with Masses, open houses, and other activities for students, families, parishioners, and the community at large.
"We Will Roar" is an interactive event focused on helping kids develop positive attitudes and respect for themselves and others. The program is presented by Jedlie Circus Productions, a leader in producing character education assemblies for schools and churches. The program was written and created by former social worker Jed Doherty, also known as Jedlie. Since August 2012, this exciting program has motivated over 50,000 students from Augusta, Maine, to Orlando, Florida, to practice kindness and stand up for each other.
Throughout the assembly, Jedlie highlights the role of the bystander in bullying situations and teaches kids how to best navigate teasing and bullying among peers. Jedlie uses positive reinforcement, storytelling, music, comedy and magic to help audiences connect with each other and get excited about their learning.
One of the highlights of the show for Catholic Schools week is a powerful and magical retelling of the Story of the Good Samaritan designed to remind students of their responsibility to respond to the suffering of others.
This exciting interactive school assembly is adaptable to be appropriate for students from preschool through grade eight.
Schools hosting We Will ROAR as part of Catholic Schools Week include;
Our Lady of Sorrows School, South Orange, NJ
Sacred Heart School, South Amboy, NJ
St Francis Cathedral School Metuchen, NJ
St Stanislaus Kostka School, Queens, NY
Our Lady of the Snows School, Queens, NY
Interested parents and educators can learn more by visiting the web site http://www.wewillroar.com and by calling 800-231-1879.
# # #