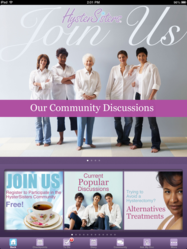 "HysterSisters draws users in at the point of their surgery, but many women continue to participate long afterward, mostly because of the social aspect of the site." -MobiHealthNews
Dallas, Texas (PRWEB) January 10, 2013
HysterSisters.com, the Internet's number one destination for woman-to-woman support for hysterectomy and its related gynecological conditions such as endometriosis, fibroids and uterine/ovarian cancers, today announced the launch of its free mobile apps for iOS including both iPhone and iPad and Android mobile phones.
Named HysterSisters Hysterectomy Support in iTunes and Google Play, these apps are the only free GYN health apps that allow women to personalize the information they need according to their hysterectomy surgery date. A woman can enter her surgery date, customize a list of questions for her doctor, make to-do's for herself, assign tasks to family and friends, watch videos, and get information and support from the HysterSisters online community. The app also provides weekly reminders and suggestions for preparing and recovering from hysterectomy surgery.
Hysterectomy – the partial or total removal of a woman's reproductive organs – is the second most common surgery for women between ages 18 and 65 in the United States. Over 600,000 women a year have hysterectomies, according to data collected by the Centers for Disease Control.
More people are using mobile devices to get health information, too. A 2012 Pew Internet survey showed that 31 percent of mobile phone owners have used their phones to look up health information, and nearly 20 percent have downloaded a health app (source: Pew Internet & American Life Project's Mobile Health 2012). HysterSisters Hysterectomy Support app for iOS and Android is the only app of its kind that combines the interactivity of an online community (with more than 290,000 registered members) with a library of independent articles and videos about hysterectomy alternatives, surgical options and other topics with both practical and emotional support.
"I watched every single video before I had my hysterectomy," said 37-year-old Robin Barron, who began using the HysterSisters website in 2012. "They were very helpful, just giving me ideas on what I shouldn't be doing, what I should be doing, what to ask my doctor when I go back in for my six week checkup."
HysterSisters user Adrienne Stephens appreciates the functionality of the site's mobile app. "I really do like the diary portion of the HysterSisters app. It gives you the calendar, and it also provides you with possible symptoms that you're maybe having. I logged my symptoms and took my iPad into the doctor's office with me so I could discuss them with her."
Doctors report that it helps their staff as well as their patients. "I have used this new app with my patients several times, it works really well," says Susan Carter, MD, FACOG/FACS, a gynecologist in Greeley, Colo. "The 'checkpoints' feature provides lots of information, so the preoperative process is easier on my office staff, too. The 'ask my doc' list of pre-op questions is actually more efficient than the patient herself trying to formulate how to ask certain things. This app is very organized, and user friendly. Therefore, it takes a lot of stress off of the patient, office staff, and me, the doc."
Women typically find HysterSisters through Internet search, friends and family, or a doctor's referral. In 2011, HysterSisters.com founder Kathy Kelley began to notice more visitors coming to HysterSisters via mobile devices, especially iPhones. She began planning an app that would simplify and streamline the user experience while still giving women full access to the enormous online community and library of information on the website. Kelley was testing the iOS app as HysterSisters celebrated its 14th birthday on the Web last summer.
"The future of patient support is in our hands – and on our phones and on our tablets. I knew that HysterSisters needed to meet the needs of the next generation of women who have many more choices and questions about their gynecological health than our mothers had," Kelley says. "These apps are another milestone, just like when I moved the HysterSisters website from my personal AOL page to its own domain back in 1999. Back then, I was a recovering hysterectomy patient who wanted to connect with other women. Now I'm a grandmother."
In 2012, HysterSisters reported over 2.5 million unique visitors a month to the site.
"HysterSisters is successful because of the enormous community of women who go online to lend support to each other, and I hope the HysterSisters iTunes and Android apps will continue to evolve and meet women's needs," Kelley says.
The main features of the HysterSisters Hysterectomy Support are:

pre-and-post hysterectomy checkpoints with what to expect in the weeks leading up to and after hysterectomy surgery;
a symptom tracker;
customizable to-do lists, with suggested questions for doctors and tips for family members; and
access to more than 35 online forums.
"We want the HysterSisters Hysterectomy Support app to be intuitive," said Kelley. "It can be the primary support and information tool for women who are considering or scheduling a hysterectomy."
"HysterSisters helped me make an informed decision to have, prepare for and recover from that surgery," writes one member on the AppStore reviews page. "I found comfort in seeing that others had the same concerns…"
HysterSisters Hysterectomy Support app for iPhone, iPad and Android phones was designed by Semaphore Mobile in Dallas, Texas. The free app is available on iTunes (iPhone and iPad) and Google Play.
For more information or to download the app, please visit http://itunes.apple.com/us/app/hystersisters-hysterectomy/id555030939?ls=1&mt=8
https://play.google.com/store/apps/details?id=com.semaphoremobile.hystersisters
About HysterSisters.com
From its early days as an AOL message board in 1999, HysterSisters.com has grown to nearly 290,000 registered users in 2012. Over 20,000 women visit HysterSisters daily to find information about surgical choices, hysterectomy alternatives, post-surgical recovery, cancer treatments, hormone replacement therapy, menopause, and other gynecological health concerns. Virtual hostesses monitor more than 35 interactive forums on those topics and more. HysterSisters.com is an independent source of hysterectomy information and experiences; it is not pro- or anti-hysterectomy.