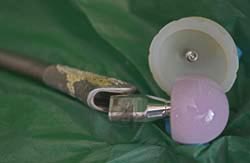 Patients should not sign anything without contacting an attorney who is handling these cases first.
Minneapolis, Minnesota (PRWEB) January 16, 2013
Attorneys Fred Pritzker and David Szerlag represent dozens of patients in cases against Stryker Orthopaedics for injury from its Rejuvenate and ABG II modular-neck hip stems (see below). Stryker recalled these products in June of 2012, and has now announced that it has hired Broadspire Services, Inc. to help with hip recall claims.
"I am concerned that patients who are not represented by a lawyer will sign documents that will prevent them from getting compensation for pain and suffering, emotional distress, disability, loss of quality of life and other lawful damages," said Pritzker. "I urge patients to contact me or another attorney before signing any documents."
The ABG II and Rejuvenate hip implants were recalled because they have the potential to corrode at the modular-neck junction, resulting in elevated metal ions (chromium and cobalt) in the bloodstream and damage to the muscles, tendons, soft tissue and bone. Initially, Stryker recommended that doctors only test for raised ion levels when patients experienced pain and/or swelling. Now Stryker is recommending surgeons test all patients who received the recalled hip implants, even if they are not experiencing pain or swelling. The company is also recommending repeat follow-up examinations, such as blood work and cross section imaging, even in the presence of normal initial findings.
"Every patient who has one of these recalled hip implants should contact a lawyer who is handling these cases," said Pritzker, who can be contacted for a free consultation at 1-888-377-8900 (toll free). Patients can talk with attorneys at Pritzker Olsen for free about their Stryker hip claims anytime.
The law firm of Pritzker Olsen has extensive experience litigating defective hip claims and are actively handling Stryker cases throughout the country. The firm has filed hip replacement lawsuits against Stryker in New Jersey, the state where Stryker (aka Howmedica Osteonics Corporation) is incorporated (New Jersey Superior Court, Bergen County, case numbers 008497 12, 008483 12, 008492 12, 008502 12, and more).
Pritzker Olsen is a national law firm with offices in Minneapolis, Minnesota. Szerlag, who is Of Counsel at the firm, has offices in Boston, Massachusetts and Providence, Rhode Island. Many of their clients had surgery at one of the following hospitals: St. Cloud Hospital in St. Cloud, MN, Stearns County; Sacred Heart Hospital in Eau Claire, WI, New England Baptist Hospital in the Boston, MA area; and Newton-Wellesley in the Boston, MA area.
Attorneys Fred Pritzker and David Szerlag can be contacted at 1-888-377-8900 (toll free) or via their website, http://www.pritzkerlaw.com. The Minnesota office is located at 45 S 7th St #2950, Minneapolis, MN 55402. Our Stryker Rejuvenate hip recall lawsuit lawyers are providing free consultations to patients.