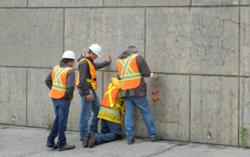 The new handbook is FHWA's most comprehensive visual ASR guide
Austin, TX (PRWEB) January 10, 2013
The Federal Highway Administration (FHWA) has released an updated field guide for recognizing and evaluating concrete with apparent alkali-silica reactivity (ASR) distress. Developed under FHWA's ASR Development and Deployment Program, the Alkali-Silica Reactivity Field Identification Handbook is available as a compact spiral-bound guide, or it may be freely downloaded from FHWA's online pavement publications.
ASR – a moisture-aggravated chemical reaction between particular combinations of cement and aggregates – can considerably shorten the service life of concrete structures if left undetected and untreated.
The new handbook is FHWA's most comprehensive visual ASR guide: nearly 70 updated photos of ASR symptoms in varied scenarios will help agencies identify ASR as quickly as possible. Early detection improves the success of treatments to mitigate ASR and extend the service life of an affected concrete structure.
The handbook was developed under a contract between FHWA and The Transtec Group, an international pavement engineering and research firm.
ASR-affected concrete expands and cracks – in cases of prolonged damage, structures tend to shift, typically resulting in joint failure. Structures affected by ASR tend to exhibit initial symptoms five to ten years after construction, but concrete in warmer, humid climates may show symptoms after less than two years.
To obtain a physical copy of FHWA's Alkali-Silica Reactivity Field Identification Handbook optimized for field use, contact Report.Center(at)dot(dot)gov, and include the official report number: FHWA-HIF-12-022.
To download a digital version of the handbook, visit FHWA online.
About The Transtec Group: The Transtec Group is a pavement engineering firm that provides expertise in pavement design, research, construction, rehabilitation, software development, Public-Private Partnership (P3) projects and technology transfer for the transportation industry. A DBE and MBE firm, Transtec is a leader in Design-Build transportation projects worldwide. Transtec is based in Austin, Texas and serves clients throughout the world. For more information, please visit http://www.TheTranstecGroup.com.