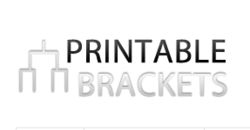 Super Bowl squares are just one of many complimentary items available at PrintableBrackets.net
(PRWEB) January 10, 2013
Wild Card Weekend is in the books and the NFL playoff picture has become a little clearer. As this weekend's Divisional Round approaches, the Super Bowl isn't too far behind. With that in mind, Printablebrackets.net has decided to make this year's complimentary Super Bowl squares available to the public.
"We know how popular Super Bowl squares contests are every year," said Printable Brackets spokesman Zaniel Worth. "Based on the popularity of our 2013 NFL playoff bracket, we decided to make our football squares available a little earlier than we originally planned."
The concept for a squares contest during the Super Bowl is a simple one: Winners are determined by the score at the end of each quarter or the full game. Worth says that fans that may not have otherwise been invested in the game now will be because every single play becomes significant.
"Fans who have previously participated in a Super Bowl squares contest know how much excitement it adds to the biggest game of the year," said Worth. "For those who haven't, we explain all the rules so you won't be left out this season."
Super Bowl squares are just one of the many complimentary items available on the recently- launched site, and Worth says that's there's plenty more to come.
"The squares contest isn't the only thing we have ready to roll for the big game this year," said Worth. "Fans who visit our site will not only get a sneak peek, but can also get a head start on planning their Super Bowl party."
For a complimentary Super Bowl squares template, or for dozens of other sports-related brackets, please visit Printablebrackets.net.