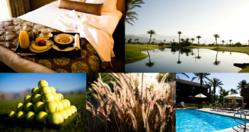 With tremendous quality, upside and growth opportunity, the Borrego Springs Resort is a hidden gem that awaits your arrival.
San Diego, CA (PRWEB) January 10, 2013
Real Living Lifestyles Resort & Investment Division is proud to represent its newest offering, The Borrego Springs Resort & Country Club in Borrego Springs California.
Nestled between the Anza-Borrego Desert and the foothills of the Santa Rosa Mountains, Borrego Springs Resort boasts a variety of recreational amenities, fine dining, golf, spa, tennis and comfortable accommodations all within ninety minutes of Palm Springs and San Diego. Whether you are in need of a quiet getaway, hosting a corporate event, or perfecting your golf or tennis skills, Borrego Springs Resort is a lavish destination for all of your vacationing and business needs.
The property measures approximately 971.90 acres in the master planned community of the Borrego Springs Country Club. The site includes an 18 hole golf course, a two-story 100 room hotel and an elegant Country Club, complete with a grand restaurant, intimate lounge & bar and tasteful café. Improvements to the Borrego Springs Resort include two swimming pools and spa and several tennis courts.
Not only does The Borrego Springs Resort offering represent a unique opportunity to purchase a country club, hotel and championship golf course, but it also includes an 821 residential development opportunity. The parcels are surrounded by open space and high quality single-family homes. The property's current zoning allows for the creation of 434 single family detached homes, 166 patio homes, 178 single family attached homes, 27 ranchettes and 16 ranches to the already established community.
With tremendous quality, upside and growth opportunity, the Borrego Springs Resort is a hidden gem that awaits your arrival.
Representing the property is Rick Vesci, Broker and Director of the Resort & Investment Division at Real Living Lifestyles. Rick has been in the real estate business for the past 25 years, working for premier real estate organizations such as Prudential US/México, Coldwell Banker New Homes in Mission Viejo, California, Club Corporation of Dallas, Texas, Four Seasons Real Estate Group in Carlsbad, California and Argus Hospitality Group in San Clemente California. He joined Real Living Lifestyles in 2012 and is also the Director for the Elegant Homes Division.
For inquiries about the Borrego Springs Resort, please contact Rick Vesci at 760-604-3395, or rickvesci(at)gmail(dot)com. Property showings by appointment only.
Property Overview:
Property: Borrego Springs Resort
Property Address: 1112 Tilting T Drive, Borrego Springs, CA 92004
Price: $10,000,000
Lot Size (Acres): 971.90