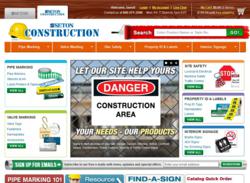 BRANFORD, CT (PRWEB) January 10, 2013
According to the Occupational Safety and Health Administration (OSHA), the leading cause of deaths on construction sites across the U.S. in 2011 were falls, electrocution, impact with an object, or workers becoming trapped in small spaces. These causes, coined "Construction's Fatal Four" by OSHA, accounted for 57% of construction worker deaths last year alone.
To help combat Construction's Fatal Four, Seton, a leading supplier of construction safety signage and identification, has launched a new website featuring products to aid with pipe marking, valve marking, site safety, property ID & labels, and interior signage.
"We've built our business on the construction industry over the last 50 to 60 years. We wanted to put something very specific out there to suit the needs of our customer," said Rebecca Gounaris, Strategic Marketing Manager at Seton. "We heard what they were saying, which is why we developed the site."
The new website and revamped catalog feature over 40,000 products specifically designed to meet the needs of those in the construction business.
"All of these products are designed to promote safety in the workplace," explained Susan Reed, Product Manager for Seton. "We offer crane and blasting safety signs, conveyor labels and OSHA caution and danger signs, but it's not just compliance, we're focused on safety."
Seton's one-of-a-kind Pipe Marker Quick Order Tool makes it easier than ever to order pipe markers online. This new tool takes all the guess work out of pipe marker buying and makes it as easy as 1-2-3. Simply enter your wording, color, size and you've got a pipe marker in a snap.
"Not only do we provide products, but we're an information source. We've included compliance information throughout the website. Things like OSHA regulations and ADA standards, as well as relevant industry information, so that customers can access the information they need to know," Reed said. "I think the combination of product with the compliance information and other tools create a one-stop shop. If customers have uncertainly about size, or need direction about the best materials for their application we can help them with that."
The site can be accessed through http://www.seton.com/construction. Seton offers thousands of items and most products, even custom ones, ship the same day the order is placed.
###
For over 55 years, Seton has been the source for safety, labeling and signage solutions. Seton offers over 250,000 products, all of which are designed to increase workplace safety and enhance facility marking applications for millions of customers around the globe. For more information, visit http://www.seton.com.