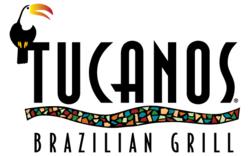 With our special Charity Night event, we'll get to know the community even better...
Newport News, Va. (PRWEB) January 10, 2013
Tucanos Brazilian Grill – a restaurant celebrating the colorful, vibrant lifestyle of Rio de Janeiro and the unique serving style of the traditional Brazilian grilling experience – has declared Jan. 22 Charity Night. Continuing a tradition that began with their first restaurant in Utah more than 12 years ago, Tucanos celebrates its first East Coast location with an event that gives back to four local nonprofits: Children's Hospital of The King's Daughters (CHKD), Newport News Green Foundation, Operation Homefront of the Virginias, and Foodbank of the Virginia Peninsula.
Located at City Center at Oyster Point, Tucanos Brazilian Grill recently selected the nonprofits to compete for the most votes for a chance at 60 percent of the proceeds from the Charity Night. Second place will receive 20 percent, while the other two groups placing second and third will each receive 10 percent. Everyone has a chance to be a rainmaker by voting online at http://www.tucanosmakeitrain.com or at Tucanos Brazilian Grill. The caveat: online votes count as one, while in-restaurant picks automatically count as two votes.
"We are truly grateful for the wonderful reception the Hampton Roads community has extended to us," said Tucanos founder and CEO Steve Oldham. "Since we opened just prior to Christmas, hundreds of diners have experienced our unique restaurant. Now, with our special Charity Night event, we'll get to know the community even better by meeting the rainmakers supporting their favorite charities. This is a tradition that we highly value."
The reservation-only event will take place on Jan. 22 from 5:00 pm to 10:00 pm. Reservations can be made at 757-597-9500. For $20.95 for adults, $7.95 for kids ages seven to 12, and children six and under eat free, guests will enjoy a churrasco feast consisting of unlimited portions of beef, poultry, vegetables and sweet pineapple, grilled to perfection over open flames, and then sliced table side. Also, included is Tucanos famous Salad Festival, featuring the house salad, hearts of palm, shrimp, mozzarella, quail eggs, and more. All of the food for the evening will be donated by Tucanos and the net proceeds will be provided to the partnering nonprofits.
Founded in 2000, Tucanos Brazilian Grill had its genesis in a stint in Brazil by founder and President Steve Oldham, an accountant by trade, who was sent there on work assignments. He was so enthralled with the culture, flavors and energy of Brazilian dining that, upon his return, he was inspired to create the first Tucanos Brazilian Grill, in Provo, Utah.
Tucanos Brazilian Grill is located in Newport News City Center at Oyster Point, 11820 Fountain Way, Suite 104 Newport News, Va. 23606. Phone: 757-757-597-9500. Ample parking is available on site. Tucanos Birthday Club members receive a free meal once a year.
About Tucanos Brazilian Grill:
The award-winning Tucanos Brazilian Grill is a community-oriented experiential dining destination that combines the traditional Brazilian grilling experience with the fun and flair of the beaches of Rio de Janeiro. Founders Steve Oldham and Joseph Heeb opened the first Tucanos in 2000 in Provo, Utah, and have since opened restaurants s in Albuquerque, N.M., Salt Lake City, Utah, Boise, Idaho, and Colorado Springs, Colo. For more information about Tucanos Brazilian Grill, please visit http://www.tucanos.com.