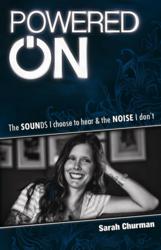 I started realizing that there were others out there like me...
Pensacola, FL (PRWEB) January 10, 2013
Sarah Churman was legally deaf for the first 29 years of her life, but now she's hearing from one media giant after another, the latest being talk show stalwart Ricki Lake, who will host Churman on Thursday's episode of "The Ricki Lake Show." When Churman heard a human voice clearly for the first time--after receiving a revolutionary implant called the Esteem device--the powerful and emotional moment was captured on video and uploaded to YouTube for friends and family to see. Much to Churman's surprise, the video quickly went viral, and it has now been viewed upwards of 15 million times. Churman's whirlwind media tour has included appearances on NBC's "The Today Show," CNN's "Anderson Cooper 360," ABC's "20/20," and the syndicated show "Ellen," among others. Churman has also written a book called POWERED ON, recently released by Indigo River Publishing, and in it she details her life's journey and offers unique insights from the perspective of a woman who has experienced both sides of a disability.
The book is deeply personal and autobiographical, but it is chiefly an inspirational tale. Churman hopes that her story will inspire those who are struggling with a disability and others who feel less than "whole" in any way, she says. She is now a public and vocal advocate for insurance reforms benefiting the deaf and disabled, and she hopes that the book – along with her media appearances – will help to rally others to her cause. "I started realizing that there were others out there like me," she says, "People who longed to feel whole and wanted to experience the things I had. These people are the ones who tug at my heartstrings daily."
For more information about Sarah Churman and her new book POWERED ON, visit http://www.indigoriverpublishing.com.