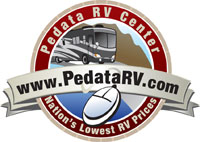 "…but it's easy to familiarize yourself with the basic RVing terminology and it can really improve the lines of communication."
Phoenix, AZ (PRWEB) January 15, 2013
Pedata RV Center releases a quick glossary of RVing terminology for the "new" RVer. Vacationers or RV lifers new to the RV lifestyle feel much more comfortable when it's time to get out from behind the wheel of their motorhome if they are able to easily adapt to the RV lingo floating around most RV parks and/or campgrounds.
Gerard Pedata of Pedata RV Center said, "The RVing lifestyle is amazing. There are people of all sorts mingling and offering helpful advice when it is needed. No one is going to feel ridiculed or shunned if they have to ask a question, but it's easy to familiarize yourself with the basic RVing terminology. And it can really improve the lines of communication between the 'new' RVer and the veteran RVer."
Getting comfortable with RVing isn't just about the vehicle itself and obtaining the actual skills to maneuver while on the road, when parking and when camping. It's also about learning the ropes of the RV lifestyle as a whole. The quick glossary of RVing terms is accessible through the Pedata RV Center website. Interested RVers or prospective RVers will find it listed along with many other helpful tips, hints and articles on the company's blog. Other access points for helpful information include: Pinterest, Facebook, Twitter, etc. RVers will never find themselves at a loss for advice or additional information. RVers are encouraged to access helpful hints, tips and advice from RVing experts and RVers themselves through any of the online outlets. In addition to the plethora of online information available to RVers, the experts are also available by phone or email.
Pedata RV Center sells used RVs, travel trailers, fifth wheels, campers, and motor homes. Their full inventory is accessible online and due to their low overhead costs they are able to offer competitive pricing in their industry. Easy access to industry and recreational vehicle information allows consumers to have access to the specific knowledge they need to ensure their purchase results in long-term satisfaction.