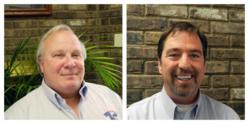 AMR's Presidents Club reflects American Metal Roof's philosophy of sales ethics, quality, and customer service. Bill and Pat's dedication to the way American Metal Roofs does business is evidenced by their sales successes.
-Frank Farmer- AMR President
Grand Blanc, Michigan (PRWEB) January 10, 2013
American Metal Roofs of Michigan (AMR) announces the induction of two new members into the Presidents Club, AMR's highest and most prestigious level of sales achievement. The inductees, William Susewitz and Patrick Jordan, will be personally honored by AMR's president and founder Frank Farmer during a special awards ceremony to be held at the Valentin Imperial Maya in Playa del Carmen, Mexico on January 26th. President's Club members are recognized for superior contributions to AMR and its customers in 2012.
As members of the President's Club, the new inductees will sit on the President's Advisory Council during the upcoming year to provide insight and feedback to American Metal Roof's executive leadership team. This distinction is based on sales volume and exceptional customer service.
"AMR's Presidents Club reflects American Metal Roof's philosophy of sales ethics, quality, and customer service," states Frank Farmer, president. "Bill and Pat's dedication to the way American Metal Roofs does business is evidenced by their sales successes."
American Metal Roofs is Michigan's premier metal roofing company with showrooms in Flint and Charlotte. Contact American Metal Roofs at 866-763-9117 or http://www.AmericanMetalRoofs.com.