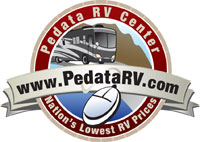 "...something newly accessible, just discovered or recently made available that will increase the ease or enjoyment of RV travel."
Phoenix, AZ (PRWEB) January 22, 2013
Pedata RV Center publishes 10 tips for RV travel. The new article was added to their online directory of articles providing access to a plethora of hints and tips regarding every aspect of the RVing lifestyle. RV travel success tips will increase the chances of successfully taking RVs out on the road no matter if the RVer at hand is new to the RV lifestyle or a veteran RVer.
Gerard Pedata of Pedata RV Center said, "The RVing lifestyle has many facets. There's always something new to learn; something newly accessible, just discovered or recently made available that will increase the ease or enjoyment of RV travel."
Even full time RVers who have been dedicated to the RV lifestyle for decades find that keeping in touch with other RVers and the various sources of industry information is helpful. New gadgets crop up that make setting up camp easier and more efficient. Developers continue to generate new smart phone applications that aid in finding RV campgrounds, cheap gas or nearby entertainment/dining options. And everyday RVers keep on thinking up new ways to enjoy the lifestyle provided by the modern recreational vehicle.
Modern recreational vehicles range in size from the Class A all the way down to the smallest travel trailer. The wide variance in size is reflected in the cost of the RVs, the amenities and features that they offer, and the maintenance and upkeep that is required. Different RV types will suit the purposes of different RVers and no one RV type is the "best" RV across the board. As is the case with almost every aspect of RVing, interested parties are encouraged to utilize advice from other RVers and RVing experts when making their decision to buy an RV.
Pedata RV Center sells used RVs, travel trailers, fifth wheels, campers, and motor homes. Their full inventory is accessible online and due to their low overhead costs they are able to offer competitive pricing in their industry. Easy access to industry and recreational vehicle information allows consumers to have access to the specific knowledge they need to ensure their purchase results in long-term satisfaction.