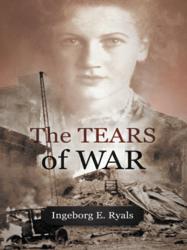 "I want the world to know of the realities of the Second World War from a German perspective... to understand that we also suffered."
TAMPA, Fla. (PRWEB) January 11, 2013
"The Tears of War", a new memoir by World War II survivor Ingeborg E. Ryals, reveals the oppression and torment suffered by German citizens in the wake of the fall of the Third Reich.
The author was a sheltered teenage girl in 1945 when the Red Army occupied her village in what would become East Germany, and her chilling account details how the Soviet occupation force cruelly abused the civilian population it had liberated from the scourge of Nazism. Rape, disease, and malnutrition were just a few of the indignities Ryals endured; her situation only worsened when the Soviets sent her to a labor camp on an island in the Baltic Sea.
A daring escape enabled her to make her way to the American section of Berlin — and a new life of freedom — but at the nearly unbearable cost of leaving beloved family and friends behind. "The Tears of War" is a reminder to us all of the devastating impact war inflicts on innocent lives on both sides of the battle lines — even generations after hostilities cease.
"I want the world to know of the realities of the Second World War from a German perspective," says Ryals, who married an American and now resides in Tampa, Fla. "To understand that we were not all Nazis and that we also suffered."
Writing with an incredible recall of events leading up to the end of the war, Ryals recounts being assigned to dig trenches on Germany's eastern front — at the tender age of 15 — in a futile attempt to slow the advance of the Red Army. As her idyllic rural village life crumbled around her, conditions deteriorated to a nadir that saw her barely clinging to life as she battled typhoid fever.
As neighbors around her committed suicide rather than live under the depraved rule of their Soviet occupiers, Ryals vowed to not give in to her fears — nor her tears. The stunning result of her courage under fire, "The Tears of War" is nothing less than a must-read memoir.
For more information, visit http://www.iuniverse.com.
The Tears of War
By Ingeborg Ryals
ISBN: 978-1-4759-3273-7
Softcover, retail price: $15.95
Hardcover, retail price: $25.95
E-book price: $3.99
About the author
Ingeborg E. Ryals was born in Berlin, Germany. That's where she met her American husband who, after World War II, was responsible for restoring the postal and telephone service. After their marriage at Kronberg Castle, they settled in Florida where they raised their children and ran a successful grocery business.
# # #