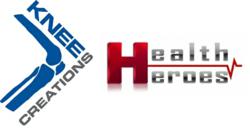 West Chester, PA (PRWEB) January 15, 2013
Knee Creations announced today that they will be featured in an upcoming episode of Health Heroes airing nationwide via Discovery Channel and other science and medicine venues during the second quarter of this year.
Recent research suggests that bone marrow lesions (BMLs) are present in many patients with knee pain and osteoarthritis (OA). BMLs have been shown to be the strongest predictor of pain in patients with knee OA, and patients with BMLs experience decreased function, faster cartilage destruction, and reduced benefits from arthroscopic treatment alone. BMLs have also been shown to be one of the strongest long-term predictors of total knee replacement (TKR), and patients with BMLs are nearly nine times more likely to progress rapidly to a TKR.
BMLs can be diagnosed using certain MRI sequences where they are marked by edematous or "inflamed" areas that have been shown to represent a healing response surrounding a microscopic insufficiency fracture within the subchondral bone. An increasing number of orthopaedic surgeons recognize that chronic BMLs will not heal without treatment. In this episode, Health Heroes audiences will learn about Knee Creations Subchondroplasty® procedure, a minimally invasive surgical intervention that treats bone defects by filling them with a biomimetic bone substitute material.
"We are delighted that Health Heroes has chosen to feature the Subchondroplasty® procedure. Patients across the country will learn more about this new treatment option for bone defects in the knee that are not addressed by current arthroscopic and conservative care treatments," said Michael J. Simpson, Chief Executive Officer at Knee Creations.
"This minimally invasive outpatient surgery is changing patients' lives," said Michele Nehls, producer for the Health Heroes series. "I'm excited to be featuring Knee Creations on our show, and to educate the Health Heroes audience on this innovative procedure."
For further information and citations in this release please contact Knee Creations at the number below.
About Knee Creations:
Knee Creations develops innovative bone-based technologies and has pioneered the Subchondroplasty® procedure, a minimally invasive surgical intervention designed to treat bone defects associated with bone marrow lesions by filling them with a biomimetic bone substitute material.
For more information, visit: http://www.subchondroplasty.com or call Brittany Sharkey at (484) 887-8902.
About Health Heroes:
Health Heroes is a powerful TV series dedicated to defining and exploring today's latest medical advances in all areas of health and wellness. Written with both the industry professional and television audience in mind, Health Heroes educates, entertains and enlightens the lives of our viewers.
For more information visit: http://www.dmgproductions.org or call (866) 496-4065.
Media Contact: Michele Nehls, Executive Producer at (866) 496-4065 x 822