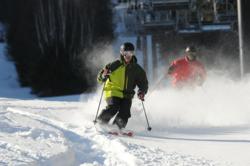 We're proud of our history and excited about our future.
Bridgton, ME (PRWEB) January 10, 2013
Get ready to celebrate with Shawnee Peak. The ski resort will be marking its 75th anniversary this weekend and is holding all sorts of special events as part of the jubilee - inviting the public to help in the festivities.
"This anniversary means we are the longest operating mountain in Maine. We're proud of our history and excited about our future," said Shawnee Peak Marketing Director, Rachael Wilkinson. As part of the special day, everyone is encouraged to dress-up in their finest nostalgic ski wear.
This Saturday, January 12th, there will be dozens of events planned as part of the celebration.
The fun begins early Saturday morning with a balloon hunt. Seventy five balloons will be placed along the trails before opening with 2-for-1 tickets inside.
From 10am - 6pm there will be giveaways in the Great Room. A Cardboard Box Race is scheduled for 2pm (pre–register you team with the front office). There will be a cocktail party in Blizzards Pub from 6:30-8pm (pre-registration required). To cap off the extravaganza in grand style, there will be a fireworks show at 11pm.
"Its going to be a great day! We hope people will come join us to mark this special occasion," said Wilkinson.
For those interested in learning more about the events or buying tickets, they can get more information on shawneepeak.com.
About Shawnee Peak: Shawnee Peak is a privately-owned, family ski resort in Maine. Celebrating its 75th year of operation, the mountain boasts 98% snowmaking, 1300 feet of vertical drop, 239 skiable acres, 40 daytime trails and 19 lit trails for night, as well as two terrain parks.
The mountain is family-driven, affordable, and provides skiing and riding for all levels and abilities. To learn more about the mountain and special offers, visit http://www.shawneepeak.com.