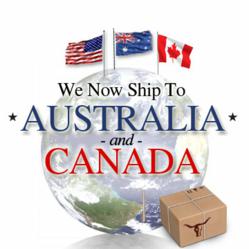 Erie, Pa (PRWEB) January 10, 2013
Western wear company Head West Outfitters announces they are now shipping their online selection of cowboy boots, jeans, western shirts, cowboy hats, and western accessories to customers in Australia and Canada. The international expansion comes after many months of requests from potential customers in both locations.
General manager Linda Skelton explained, "We are very active in social media, especially Facebook and Pinterest, and we were receiving repeated requests from users who were seeing our products and asking us to ship internationally. This was the most logical step to recognize our international shoppers and bring the western wear brands they want to their doorstep. We have been catering to our customers' needs with product selection and customer service, and now with international shipping."
There are other western stores in these international locations, but Head West Outfitters saw an opportunity to share their expertise with customers in a unique and helpful manner. The management at Head West Outfitters knew from the high level of demand that these customers' needs were not being met elsewhere. "We offer all of our customers a knowledgeable perspective and resource that not all retailers can offer. Our business is more than a store; it's our way of life. Our professional staff lives the western lifestyle. We put these products to the test every day, and we share that experience and knowledge with our customers, " stated Billy Long, president of Head West Outfitters.
"Besides knowing our products inside and out, we also deliver an unmatched level of customer service to our shoppers. Part of our exceptional service is that we do more than just sell the products; we wear them, and we select them based on quality, not just how they will look hanging on our store racks. We don't offer products we wouldn't personally wear or use. Our customer service department is comprised of every staff member in our corporate office and store, as every employee jumps at the opportunity to answer questions in the store or through email and social media. We all gladly go the extra mile to make sure our customers feel comfortable ordering from us and enjoy the products they purchase," added Billy.
Kicking off a new year and a new international shipping service, Head West Outfitters plans to stock up to offer customers more of what they want. "Our core customer base has great interest in new fashion products as they continue to evolve with western influence. Trendy, western fashion is the style we have branded for Head West Outfitters, and we believe our international customers share the same passion of Americana western influence, or else they wouldn't be contacting us and asking that we ship our products to them. We will continue searching the markets for fashionable western styles that our domestic and international customers desire," Billy stated.
Expanding services into international territory often means restructuring, change of business plans, and a new focus for the business. Head West Outfitters has been taking this into consideration as they plan future business ventures. Commenting on changes they will be experiencing, Billy stated, "It will be a process that will develop as our brand niche develops. With an expected renovation of our Erie, Pennsylvania store, we will have the infrastructure in place to accommodate our customers both domestically and internationally."
Will Head West Outfitters products be available to additional international locations? Only time will tell. The business has experienced great growth in the last two years, and as customer demand pours in, the packages will likely ship out.
Head West Outfitters
2309 Wager Road
Erie, Pennsylvania 16509
Toll Free: 1-877-799-WEST