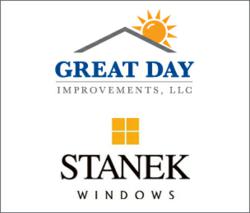 "We are excited about the continued growth of our organization and the additional product offering we will be able to extend to our customers."
Macedonia, Ohio (PRWEB) January 10, 2013
Great Day Improvements, LLC, announces their acquisition of Stanek™ Vinyl Window Company's operating assets for an undisclosed price.
Great Day Improvements, a nationally recognized residential and commercial remodeler headquartered in Macedonia, Ohio, intends to manufacture and offer Stanek™ brand windows as part of its comprehensive line of high quality home improvement products.
Steve White, Managing Partner of the company, said, "This is one of several initiatives we've executed to transform and expand Great Day Improvements into a one-stop home improvement company for our customers. The Stanek™ brand has been in existence for 60 years and in terms of quality, it is an excellent complement to our legendary Patio Enclosures™ brand." Mr. White added, "We are excited about the continued growth of our organization and the additional product offering we will be able to extend to our customers."
Last year Great Day Improvements acquired SoftWall Finishing Systems™, manufacturer of an acoustically-efficient panelized interior wall finishing system for basements, home theaters, offices, media rooms and bedrooms.
About Great Day Improvements, LLC
Great Day Improvements, LLC is a residential and commercial remodeler that offers a portfolio of home improvement solutions including: Patio Enclosures™ brand screen rooms, sunrooms, solariums, room additions, design and build construction and EasyRoom™ DIY sunroom kits; SoftWall Finishing Systems™ acoustically-efficient interior panelized wall finishing system for basements, home theaters, offices, media rooms and bedrooms; Backyard solutions including awnings, patio covers, decks, railing and fencing; Hardscape solutions including decorative concrete, stamped concrete, patio pavers, concrete overlays, driveway and sidewalk installation and Stanek™ energy savings solutions including replacement windows, doors, insulation, radiant barriers, solar shades, window film, siding and roofing. Great Day Improvements operates across 28 states, is accredited by the Better Business Bureau and has serviced over 250,000 customers nationwide. For additional information, visit http://www.greatdayimprovements.com.