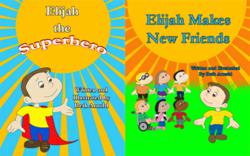 Fort Lauderdale, FL (PRWEB) January 09, 2013
"Elijah Makes New Friends" and "Elijah the Superhero" are a series of children's books that teach children strong moral values. Both books are now available in a Kindle version on Amazon.com to increase the distribution of this popular children's book series.
Whether Elijah is learning about kindness, empathy or other social values, parents can read these heartwarming books for a feel-good bedtime story. Both stories are perfect for children aged three to seven.
Five percent of all proceeds benefit Life Vest Inside, which is a non-profit organization dedicated to creating positive changes in the world through kindness.
About The Elijah Series of Books
Join Elijah on his adventures, which teach young minds about being a good person and always doing the right thing. The books are currently available on Amazon.com and other online retailers. Visit http://gethappytips.com/elijah-books/ for more information.