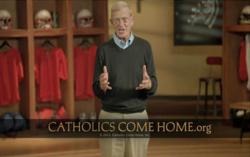 ...It's genius placement and messaging.
-The Washington Post
Atlanta, GA (PRWEB) January 10, 2013
The newest Catholics Come Home® ad featuring beloved Coach Lou Holtz was a surprise play during college bowl week, reaching 70 million homes in over a dozen bowl games. The commercial aired to the largest audience during the National BCS Championship (Notre Dame vs. Alabama), Jan. 7, 2013.
Coach Lou Holtz rallying half-time pep-talk urging viewers to focus on the goal of Heaven created an incredible buzz across North America. The message drove thousands of viewers to learn more about Jesus and His Church at: CatholicsComeHome.org. A majority of viewers, as well as stories in The Washington Post and Mormon's Deseret News, embraced the message, saying:
"Although I am not a Catholic, I am thrilled and encouraged by the "Catholics Come Home" commercial." –Tina
"Saw Lou Holtz do your commercial twice so far during the Rose Bowl Game! It's excellent… gave me goose bumps! ! It brought me to your site." –Ramon
"It's genius placement and messaging." The Washington Post
"The divine pep talk is the newest 'evangomercial' from Catholics Come Home...a well-timed commercial. Deseret News
What's Next? Watch for the Catholics Come Home® "Coach Holtz" evangomercial™ to air as the spot prior to kick-off in the Falcons playoff game this Sunday January 13, 1:00 pm EST on Fox 5 Atlanta. More than a dozen other airings will follow in prime-time next week in CCH's headquarters home of Atlanta, Georgia. This airing is to include spots at the end of the season premier week on American Idol, January 16th and 17th.
###
To schedule an interview with Tom Peterson, President and Founder of Catholics Come Home®, please send email request to spokesperson(at)catholicscomehome(dot)org.
Links to:
Download a still image of the "Coach Holtz" Ad
Download the "Coach Holtz" Ad Script
CatholicsComeHome.org is a 501(c)(3) non-profit media apostolate, dedicated to producing and airing Catholic evangelism television ads on local, national and international television networks. Catholics Come Home® is guided by a 30 person Advisory Board, including Cardinal Seán O'Malley, Bishop James Conley, Bishop Thomas Olmsted, Bishop Michael Sheridan, Bishop Jaime Soto, and other highly respected theologians and Catholic business executives.
Evangomercial™ is a trademark of Catholics Come Home, Inc. Catholics Come Home® is a Federally Registered Trademark of Catholics Come Home, Inc.
The Image/Random House book entitled, "Catholics Come Home…God's Extraordinary Plan for Your Life" authored by Tom Peterson, with Foreward by Dr. Scott Hahn, is available for pre-order on Amazon.com.