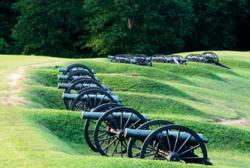 Theme cruises are extremely popular as they add an extra element of connectivity between our guests and the areas we travel. - Timothy Beebe, Vice President, American Cruise Lines
Guilford, CT (PRWEB) January 10, 2013
American Cruise Lines (http://www.americancruiselines.com), operator of the newest riverboats and small cruise ships in the United States, announced today the addition of three brand new theme cruises for 2013, including a Gold Rush theme cruise in Alaska, a Civil War Eastern Theater theme cruise to complement the Western Theatre cruise offered on the Mississippi River, and a new Enrichment theme cruise to relax the mind, body and soul of our guests aboard the New England Islands itinerary. The new theme cruises are the latest additions to American Cruise Lines' portfolio of theme cruises around the country.
Gold Rush – Alaska Inside Passage: On this extraordinary cruise, guests will experience rugged mountains and stunning glaciers as they explore Gold Rush history. They'll even board the historic White Pass Yukon Railroad, a narrow-gauge railroad built in 1898 during the Gold Rush to transport miners. On the train, they'll enjoy the alpine scenery and amazing views. A stop in Skagway, a newly added port of call, allows guests to discover Klondike Gold Rush National Park. Throughout the cruise, guests will spot an array of land and marine wildlife native to the wondrous Inside Passage. Featured Date: July 20, 2013
Civil War Eastern Theater – Historic South & Golden Isles: Following the popularity of Civil War theme cruises on the Mississippi River, American Cruise Lines has introduced the theme to the East Coast. On this new cruise, guests will discover the Eastern Theater of the American Civil War, visiting pivotal cities of the South such as Charleston, where some of the first shots of the Civil War were fired in 1861. In Savannah, guests will enjoy an eye-opening tour of its Colonial, Revolutionary and Civil War history; as well as its many fascinating historic buildings and monuments. They'll visit historic battle grounds such as the site of the Battle of Fort Sumter in South Carolina. Featured lecturers will entertain guests and offer added insight while onboard. Featured Date: April 6, 2013
Enrichment: Mind, Body & Soul – New England Islands: The moment our guests step aboard this new theme cruise, they will relax and unwind in their spacious and elegantly appointed staterooms. An assortment of unique onboard and onshore activities are offered, which will energize and revitalize our guests: Morning yoga classes, walking groups, painting sessions and a presentation on health-conscious cooking and cuisine. A menu of recommended spa treatments in port will be provided at the beginning of the cruise for advance booking. Featured Date: July 6, 2012
"Theme cruises are extremely popular as they add an extra element of connectivity between our guests and the areas we travel," said Timothy Beebe, Vice President of American Cruise Lines. "It's rewarding to provide a cruise experience centered on the shared individual interests of our guests. They enjoy the cruise even more."
Additional theme cruises offered in 2013 include:
Lobster Festival Cruise: An American Cruise Lines specialty theme offered on both the Maine Coast & Harbors and New England Islands itineraries, guests enjoy a traditional lobsterbake in Rockland, ME and the opportunity to board a lobster boat for a hands-on demonstration of the catching process. Featured Date: July 20, 2013
Culinary & Wine Themed Cruise: Culinary masters aboard the Queen of the West on the Columbia & Snake Rivers create a delectable all-American menu, and a wine connoisseur joins guests aboard for lessons on wine making, tasting and food pairing. In port, various different wineries are visited in both Oregon and Washington. Featured Date: May 4, 2013
Savories of the South Cruise: Local historians, culinary experts and featured chefs will educate passengers on the rich history of some of the South's most vibrant cities, such as New Orleans, and their famous cuisines. While in port, guests will be privy to exclusive cooking demonstrations and tastings. Featured Date: March 2, 2013
More information on theme cruises available here.
About American Cruise Lines
American Cruise Lines, the largest U.S. cruise company, operates the newest fleet of riverboats and small cruise ships in America and offers more than 35 unique itineraries along the rivers and inland waterways of the Pacific Northwest, Alaska, the Mississippi River and the U.S. East Coast, from Maine to Florida. To learn more about American Cruise Lines, visit http://www.americancruiselines.com or call 800-814-6880. Find us on Facebook at http://www.facebook.com/americancruiselines or follow us on Twitter at http://www.twitter.com/american_cruise.
# # #