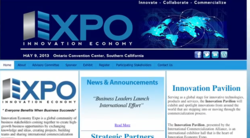 The Innovation Economy Corp. President stressed the importance of stakeholders from around the world becoming involved in the commercialization business
Riverside, CA (PRWEB) January 17, 2013
Aaron Knox's goal for the Innovation Economy Expo is clear: it is to bring innovators, entrepreneurs, educators, and investors a holistic approach to create high-growth businesses. He states, "High growth business is the reason for the vast majority of new wealth and new jobs in this country." That is where Aaron Knox's strategic partnership with EB-5 Investment Report is so critical to the success of this Inland Southern California Region.
Dwight Cromie explains that the importance of the involvement of the EB-5 program is to introduce potential investors to high-growth companies. The Inland Southern California region alone makes up for one-fifth of the EB-5 regional programs across the nation. The Innovation Economy Expo will allow growing businesses to forge working relationships with potential investors that will ensure their ideas are well-funded and successful.
The Innovation Economy Corp. President stressed the importance of stakeholders from around the world becoming involved in the commercialization business; one of the many goals resulting from the Expo.
EB-5 Investment Report will be hosting two breakout panel sessions. The first session will focus on educating city officials, EB-5 regional centers, and developers on how to work together and take advantage of the EB-5 program. The second session targets high-growth companies. entrepreneurs, and EB-5 Stakeholders and will show them how to use EB-5 funds to their benefit.
Dwight provides an example of a business owner who really used EB-5 funds to her advantage. Ching Liu, owner of a solar manufacturing company, expanded her success when she took advantage of the funds the EB-5 program had to offer.
High-growth businesses affect the economy on not only nationally but on an international scale as well. "Economic development at its very essence is business development," said Aaron Knox.
In conclusion, Aaron and Dwight spoke about what they hope to be the beneficial outcome from this event. They see the expo as an excellent opportunity to advance the economic and social future businesses across the country. The expo will serve as an educational tool for the EB-5 stakeholders, allow companies and corporations to really understand how to take advantage of the program and build strong relationships with potential investors. 2013 Innovation Economy Expo attendance is expected to exceed 1,200, making it a sold out event. "Growing the economy and creating jobs, that is the key to this Expo," Knox explained.
EB-5 Investment Report subscribers can receive a $100.00 discount to the Innovation Economy Expo by simply using the discount code EB5IEXPO.