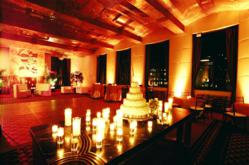 As a toast to all newly engaged couples, we're offering a special open house
San Francisco, CA (PRWEB) January 10, 2013
Happy couples in the midst of planning their nuptials would do well to take advantage of one of the City Club of San Francisco's upcoming open houses which include champagne and hors d'oeuvre tastings, a chance to meet some of the club's staff there to answer any questions about holding a wedding at City Club, access to a select group of wedding vendors as well as view the venue in its most elegant form—wedding reception style.
The open houses will be held on Tuesday January 15, Tuesday February 12 and Tuesday March 12 from 5:30 pm until 7:30 pm and are free of charge. Register for this event at http://ccsfengagmentjanuary.eventbrite.com
"As a toast to all newly engaged couples, we're offering a special open house," said Kathy Sanders, Associate Club Director. "Couples will be able to tour our magnificent, one-of-a-kind setting, meet our knowledgeable staff and talk with our wedding service vendors."
This is a wonderful chance for couples to see the club decorated as it could be on the big day. Let The City Club take the bulk of the planning over as soon-to-be husband and wife just make the big decisions of food selection, décor, music and ceremony production.
Instead of rolling the dice with the wedding planner a friend of a friend used or going by hype and hearsay of what online reviews have to say, allow The City Club of San Francisco to prove why they are the preferred venue for San Francisco wedding receptions.
The City Club prides itself on its outstanding service and opulent décor used throughout the club. Each couple has a wide selection of rooms with its own unique look and story behind its design. The club is also adorned with a host of fine art pieces unique to the venue by renowned artists including Diego Rivera.
For more information about The City Club of San Francisco and their ability to bring the perfect wedding fantasy into reality, please visit cityclubsf.com or call 415-362-2480.
About The City Club of San Francisco
The City Club of San Francisco is a private club and party venue that plays host to elegant San Francisco corporate events and personal gatherings. CCSF specializes in undeniably fabulous San Francisco wedding receptions, rehearsal dinners, bridal and baby showers, and meetings, networking events, awards dinners, seminars, workshops, retirement parties, anniversary parties, birthday parties, Bar/Bat Mitzvahs, alumni receptions, social galas, holiday parties and fundraisers.
In addition to its own world-famous art and architecture, CCSF actively promotes the art and culture of San Francisco through collaboration with premier arts and cultural organizations to bring unique programs to the Club and its membership.
CCSF members include business, government and community leaders who are actively involved in San Francisco and Bay Area civic affairs. One of the ways that the Club actively supports these activities is by providing a public forum to civic and business leaders to discuss events affecting the City and its people.
For information about The City Club of San Francisco membership, please call Gwenn Stroman, Membership Director, at (415) 362- 2480 X213.