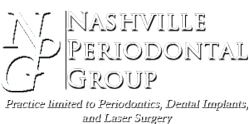 Nasvhille, TN (PRWEB) January 09, 2013
The Nashville Periodontal Group now offers different types of bone grafting surgeries for patients who require additional bone material to support the installation of dental implants. A periodontist at Nashville Periodontal Group will discuss an individual patient's treatment plan to determine whether the bone graft is necessary and what it will entail.
When a tooth is lost, the bone can immediately begin to deteriorate. The reason for this is that a tooth stimulates regeneration in the bone, and when it is missing that stimulation is gone. Dental implants function much the same way as natural teeth in stimulating the bone and are a preferred replacement for missing teeth. However, if a tooth is missing for a long period of time before a patient desires an implant, the deterioration may have progressed too far for the implant to be installed without bone augmentation.
The bone grafting procedure requires an incision in the area of the missing bone and the installation of bone material. Once the new material has been inserted, sutures are used to close up the area and the healing process begins. Approximately six to nine months are generally required for healing is complete and the dental implants can be safely installed.
The periodontist may use allografts, xenografts or autogenous grafts. Autogenous are from the patient's own body, while allografts are human bone from a bone bank. A xenograft is non-human bone from a bone bank. The periodontist will discuss with the patient the different options and the benefits of each prior to the procedure. Once the bone graft has occurred and the patient has healed, titanium implants may be installed to replace the missing teeth. Generally, these are matched to the natural teeth in the mouth, and most people will not be able to tell the difference. To learn more about bone grafting and implants, visit http://www.nashvilleperio.com.
Nashville Periodontal Group is a periodontal practice offering patients personalized dental care for Nashville, TN. Drs. Bill Akin and Brian West are part of one percent of dental professionals providing the most recent FDA cleared laser procedure for gum disease and periodontal treatment. Along with laser dentistry they have a strong focus on patient education on gums. To learn more about Nashville Periodontal Group and their dental services visit their website at http://www.nashvilleperio.com and call (615) 800-3686.