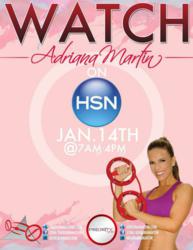 Having fun while working out effectively is what works, and you don't even have to leave the comfort of your home
SUNRISE, FLORIDA January 11, 2013 (PRWEB) January 11, 2013
As 2012's NPC bikini fitness champion and TV and Radio fitness personality, Adriana understands how to coach and inspire people of all fitness levels through different media outlets. "I believe it's my mission to promote health and wellness worldwide" says Martin "the best part of my job is receiving success stories from people around the globe who have achieved their health and fitness goals using my system".
Fun, creative and results-driven, are what make Adriana's fitness system unique and award winning. "Having fun while working out effectively is what works, and you don't even have to leave the comfort of your home" says Adriana "your body doesn't know the difference between training at the gym or in your living room; what matters is to focus on execution and enjoy the process." Adriana Martin's revolutionary approach to fitness and weight loss is what makes her such a popular fitness celebrity and sought after weight loss expert. As a published author, bilingual fitness guru, mother of two and "MOMpreneur," Adriana has taken the fitness world by storm all while helping the entire nation, and countries worldwide, get healthier and sexier!
Watch Adriana launching her "Priority Series" Monday January 14th at 7:00am and 4:00pm on HSN and every week on The Balancing Act on Lifetime TV "Tu Desayuno Alegre" on Univision. Listen to her weekly on La Nueva 88.3FM and catch her on "Un Nuevo Dia" on Telemundo.
Coming soon in February, Adriana will be featured on Mission Makeover on Lifetime TV.
Get social with Adriana on http://www.facebook.com/adrianamartinfp | @AdrianaMartin_ | http://www.youtube.com/adrianamartinchannel