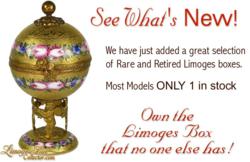 Out of production Rare and Retired Limoges boxes are very valuable and greatly sought-after. Collectors and gift shoppers can find the largest selection of rare and retired Limoges boxes at LimogesBoxCollector.com.
Los Angeles, California (PRWEB) January 10, 2013
LimogesBoxCollector.com is proud to announce the arrival of a large Collection of Rare and Retired French Limoges boxes. The Collection features the highest quality porcelain craftsmanship and artistry with magnificent detailing and vivid colors in a variety of styles.
This outstanding collection will satisfy the Limoges collectors and high-end gift shoppers who are always on the lookout for outstanding and out of the ordinary Limoges collectibles. The Rare and Retired Limoges boxes are no longer produced and thus are very valuable and greatly sought-after.
LimogesBoxCollector.com offers an extensive selection of over 1,300 styles of Limoges boxes in every category and theme for every taste and budget. The collection offers a fantastic selection for any special occasions such as Valentine's Day, Birthday, a New Baby, Anniversary, Wedding, Holidays, Graduation, Vacation, etc. Special interests such as music, art, gardening, sewing and so much more can be memorialized by a Limoges box. Animal lovers can find a fantastic selection of the Dog and Cat Limoges boxes, Farm and Exotic Animals as well as a variety of other animals in collectible Limoges porcelain.
French Limoges boxes are valuable keepsakes and are loved and collected worldwide. The history of Limoges box goes back to the time of Louis XVI, when Limoges boxes were used as snuff boxes. As the popularity of Limoges boxes grew, the style of these ornate hand-painted porcelain boxes evolved. French artisans began to create various shapes in numerous themes. Today, you can find a Limoges box relating to any imaginable subject or theme.
When purchasing collectibles, it is of utmost importance to find a trusted source who guarantees quality and authenticity as well as providing excellent expert customer service. For those who seek the highest quality, great selection and competitive prices on the market, they will find a trusted source in LimogesBoxCollector.com, an authorized dealer for over a decade and the #1 choice for Limoges collectors and gift-buyers worldwide.
Every Limoges box offered in the collection is 100% guaranteed to be authentic and crafted entirely in Limoges, France. Each Limoges box bears the insignia of the artists as well as the designation "Peint Main" signifying that the Limoges box is painted by hand and "Limoges, France" as a guarantee of the Limoges being manufactured in the Limoges region of France.
LimogesBoxCollector.com continually adds new and original designs of Limoges boxes as well as retired and hard-to-find pieces in various themes. With every visit, customers always find a variety of new-arrivals to choose from and to enhance their collection.
Especially of interest to avid Disney collectors is LimogesBoxCollector.com's large selection of Rare and Retired Walt Disney Limoges boxes by Artoria Limoges. LimogesBoxCollector.com is the only website offering these highly-sought-after pieces which include Mickey Mouse, Minnie Mouse, Donald Duck and other beloved Disney characters.
About LimogesBoxCollector.com: LimogesBoxCollector.com is an authorized dealer and direct importer of all French Limoges lines and is the exclusive distributor and retailer of the luxurious line of Beauchamp Limoges boxes. The company is owned by Grand Dezign, Inc. and has served the US and international community for over a decade. As one of the largest Limoges dealers in the US, LimogesBoxCollector.com offers thousands of Limoges boxes in hundreds of styles for every taste and budget. Excellent customer service, same-day shipping and competitive pricing, has made LimogesBoxCollector.com a favorite and trusted source for French porcelain Limoges boxes.
For more information, please contact:
Customer Relations Specialists
LimogesBoxCollector.com
310-391-4559
http:// http://www.limogesboxcollector.com