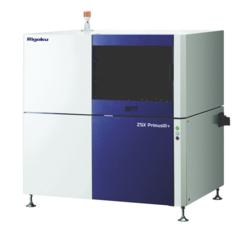 The Woodlands, TX (PRWEB) January 10, 2013
Rigaku Corporation has published a new application report demonstrating a wavelength dispersive X-ray fluorescence (WDXRF) method for the quantitative analysis of blast furnace slag. The new report describes the performance of the Rigaku ZSX Primus III+ WDXRF spectrometer and includes details for sample preparation, method calibration and repeatability.
Blast furnace slag is a by-product of iron and steel production, resulting from the separation of a metal from its ore. Its analysis is a fundamental part of process control. The slag itself has a number of industrial uses, including as a component of cement, insulation and soil additives. Assessing the elemental composition of blast furnace slag is essential to determine its suitability for these and other applications. X-ray fluorescence spectrometry is a common analysis tool employed during the iron and steel making process.
The blast furnace slag is often analyzed by the pressed pellet method. Preparing samples as fused beads, however, gives more accurate results by removing the errors caused by grain size and heterogeneity, making the method a popular analysis technique for blast furnace slag.
For the analysis detailed in the report, measurements were performed using the ZSX Primus III+ spectrometer with a 3 kW Rh target X-ray tube. The results show that highly precise and accurate analysis of the components in blast furnace slag can be performed rapidly by the fusion method using the ZSX Primus III+ analyzer.
Also capable of analyzing blast furnace slag by the pressed pellet method, the ZSX Primus III+ is ideally suited to the steel industry, where both bulk metal and powder samples are analyzed as part of process control in manufacturing. The ZSX Primus III+ analyzer can also be applied to different types of materials such as iron and sintered ores, coke, limestone and pig iron for process control in iron foundry.
A copy of this application report may be requested on the official Rigaku website at http://www.rigaku.com/products/xrf/primus3/app5024.
About Rigaku
Since its inception in Japan in 1951, Rigaku has been at the forefront of analytical and industrial instrumentation technology. Rigaku and its subsidiaries form a global group focused on general-purpose analytical instrumentation and the life sciences. With hundreds of major innovations to their credit, Rigaku companies are world leaders in X-ray spectrometry, diffraction, and optics, as well as small molecule and protein crystallography and semiconductor metrology. Today, Rigaku employs over 1,100 people in the manufacturing and support of its analytical equipment, which is used in more than 70 countries around the world supporting research, development, and quality assurance activities. Throughout the world, Rigaku continuously promotes partnerships, dialog, and innovation within the global scientific and industrial communities.
For further information, contact:
Laura Oelofse
XRF Product Marketing Manager
Laura(dot)Oelofse(at)rigaku(dot)com
Rigaku Corporation
(281) 362-2300
http://www.rigaku.com