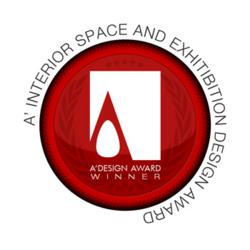 Best Interior Designs will be awarded with the Platinum A' Design Awards.
Como, Italy (PRWEB) January 10, 2013
A' Design Award & Competitions have announced their call for submissions for the 2013 edition of the Interiors and Exhibition Design Awards. The A' Interiors & Exhibition Design Award is an international design competition, open to submissions of both conceptual and realized interior design projects.
Interior design professionals, designers, architects, architecture offices and creative agencies are all invited to participate in the awards by submitting their projects online before the competition deadline on February 28, 2013.
About the Interior Design Awards
Interior Design Award submissions are judged on evaluation criteria such as space usage, human factors and sustainability. Entries are further considered for their aesthetics and presentation qualities. The jury panel consists of experienced academics, professionals, and media editors. The winners of the A' Interior Design Awards are provided extensive and exclusive marketing and communication services to promote the success of winning the A' Award. Furthermore, the winning designs appear on the annual yearbook which is distributed to the high-profile magazine editors, design oriented companies and relevant parties.
Submission Process and Timeline
Entries are accepted online via A' Design Award & Competitions' submission platform. Interior design projects could be submitted under one of the following award categories: 1.Exhibition Design, 2. Hospitality Design, 3. Design of Public Space Interiors, 4. Residential Design, 5. Retail Design, and 6. Workplace Designs.
The deadline for submissions is on February 28, 2013 and the results of the Interior Design Awards will be made public on April 15, 2013. To take part in the competition, designers are first required to register online, then compete their application by uploading five high-resolution images of their projects. In addition, layout and visitor flow diagrams and a brief description of the interior design project should also be uploaded as a PDF file. Further information regarding the Interior Design Awards could be obtained from the award website at: http://www.interiordesigncompetition.com and previously awarded interior design projects could be seen at the award winners' website at http://www.awardwinningdesign.org.
About the A' Design Awards
A' Design Award and Competition aims to highlight, advertise and advocate good design by providing intensive publicity to award winners. The event is meant to recognize the best and most innovative interior design projects designed by independent architects and interior designers. To learn more about the A' Design Awards please visit: http://www.whatisadesigncompetition.com