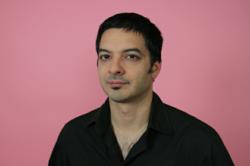 As long as the man is aware of how a woman reacts to his touch, he's halfway there, Xuma offers among the seduction tips in his latest report.
San Mateo, CA (PRWEB) January 15, 2013
Ever wonder what some guys have that just keep women coming back? They know how to touch a woman in a way that makes her swoon, says Dating Expert Carlos Xuma in a new report.
"There is a wrong way and a right way to touch a woman to seduce," says Xuma. "A lot of seduction success has to do with how to touch a woman, but also where and when. Too many guys either haven't paid attention to a woman's reaction or just are clueless to what women want and therefore continue to strike out when it comes to seducing a woman."
Xuma's new report on seduction tips includes the importance of and a guide to knowing how women want to be touched.
"Women, at least most women, don't like a guy to just go in for the kill and grope them," Xuma says. "Seduction is much more about building anticipation so that a woman wants, even yearns for, a guy to touch her way before he actually does."
Part of the problem, Xuma says, is that many men lack a basic understanding of what sensual touch is and isn't.
"In the dating advice world it is called kino for short," Xuma says in his report. "It's basically a way to touch a woman to seduce her."
For instance, many women find it extremely sensual to be touched on their lower back and waist area, even in passing.
Or, a light touch on the neck can be very effective in seduction and building attraction. Some women, Xuma says in his report on tips for seduction, find having their hair stroked to be extremely sensual.
The options are limitless, Xuma explains. As long as the man is aware of how a woman reacts to his touch, he's halfway there, he says.
"These types of touches are not aggressive and are non threatening and yet are highly effective in the seduction realm," Xuma says in the report on tips to seduce a woman. "There are so many places that a guy can touch to seduce, but sadly many guys limit their imagination to a few obvious places that usually don't work early on in the game."
Which brings up another point, says Xuma: "Timing is everything," he reminds. "Men often touch a woman in the wrong place too early. A particular touch that works for seduction later on may turn a woman off if it is approached too soon."
These and other tips for seducing a woman are detailed in Xuma's new report.
Carlos Xuma has spent years teaching hundreds of men how to attract and approach women, seduction tips, and how to talk to talk to women. He is the author of The Bad Boy Formula, Secrets of the Alpha Male, the Girlfriend Training Program, and numerous other books and articles. He has been a dating expert and attraction adviser for more than 10 years and has appeared on ABC and CBS television, as well as Playboy radio.
For more information, visit Carlos Xuma's website at http://www.datingdynamics.com