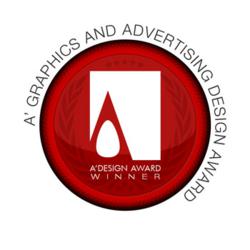 Best Graphic Designers and Creatives will be highlighted.
Como, Italy (PRWEB) January 10, 2013
Today, A' Design Award & Competition has announced its final call for submissions for the 2013 Graphics Design Competition Category. The A' (A-Prime) Graphics and Advertising Design Competition is an open design competition for submission of both concept stage and realized works designed by professional and young graphic designers, graphic design companies, branding experts, consultancy companies and creative agencies and advertising studios worldwide.
About the Graphics Design Award
The A' Design Award for Graphics and Advertising is not just an award, it is the indicator of quality and perfection in design, the award is recognized worldwide and takes the attention of design oriented companies, professionals and interest groups. Winning the A' Award is a certificate of excellence for designers, an important milestone in your career. Having the A' Award attracts the eyes of design oriented companies worldwide, winners will be able to find better and higher profile jobs, get a step ahead in their life.
Graphics and Advertising Design Award Categories
A' Design Awards is looking for submissions under the following headings: 1. Identity and Branding Designs, 2. Poster and Signal Designs, 3. 2D Packaging and Labeling, 4. Editorials, Books and Related Materials, 4. Reports, Manuals and Catalogs, 5. Promotional Designs, 6. Invitations and Greetings, 7. Promotion and Self Expression Designs, 8. Commercials, 9. Commercial Illustrations, 10. Infographics
Participation Benefits
The winners of the A' Graphics and Advertising Design Award will be provided extensive and exclusive marketing and communication services to promote the success of winning the A' Award. Furthermore, winning designs will appear on the A' Design Award Annual which is distributed to the high-profile magazine editors, design oriented companies and relevant parties. The winning designs are also exhibited at MOOD, and the best designs will be picked for the permanent exhibition.
Nomination Process and Timeline
Nominations are made through A' Design Award & Competitions' online submission platform until the end of February and results of the graphics design competition will be announced on 15 April 2013. Previous graphics and advertising design awards winners can be seen at http://www.designmag.org . Interested parties could learn more about the graphic design competition by visiting the contest website at: http://www.graphicsdesigncompetition.com
About the A' Design Awards
A' Design Awards is an annual juried design competition that honors the best designers and design oriented companies worldwide to provide them publicity, fame and recognition. Every year, projects that focus on innovation, technology, design and creativity are awarded with the A' Award. Learn more at: http://www.whatisadesignaward.com